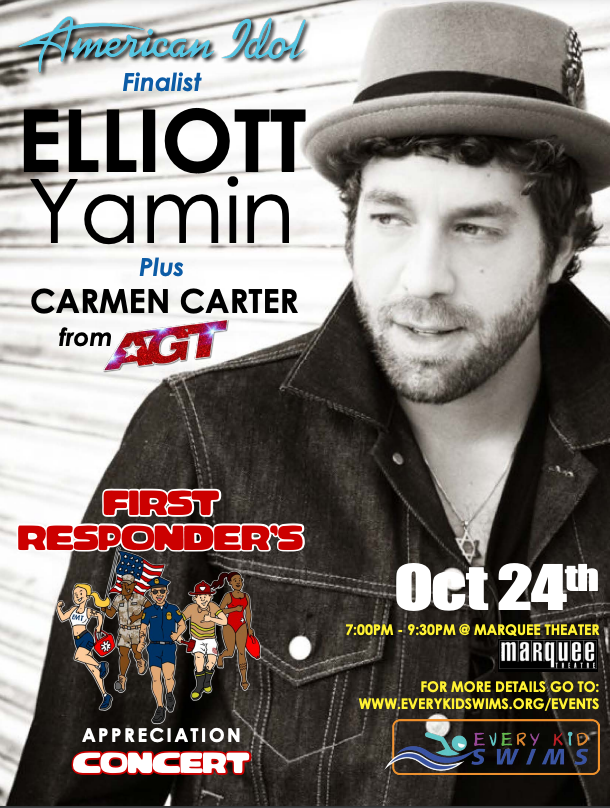 Every Kid Swims, a nonprofit organization dedicated to swim training, water therapy and mentorship for foster and at-risk youth, announced its First Responder appreciation concert on Sunday, Oct. 24, at 7:00 p.m. Free to all First Responders, the concert is scheduled at Marquee Theater and features musical talent including up-and-coming artist Sammy Rose from Tallahassee, Florida, Ryan Brolliar from the Music is Medicine Tour, Carmen Carter, lead singer on Dancing with the Stars, and viral contestant from America's Got Talent and American Idol finalist Elliott Yamin.
The concert will honor all First Responders including foster care and social service workers, teachers and education professionals, law enforcement officers, firefighters, emergency medical responders and all branches of the military.
"As we've built relationships within the First Responder community through these powerful events, we have deepened our appreciation for these brave men and women who courageously serve our community," Founder Wesley Stewart said. "We are thrilled to bring this event to Tempe and help honor those that have given so much, especially through the last year."
Often, the last interaction a foster youth has with a First Responder is a traumatic experience where they are removed from their parents or home. Every Kid Swims has strived to not only ensure foster/at-risk youth learn to swim and have safe access to water therapy programs, but they also have created intentional annual events in other states with First Responders to remedy this perception.
General admission tickets are available for $25 and all First Responders can register for two complimentary tickets at:
https://www.everykidswims.org/events/first-responders-appreciation-concert-tempe