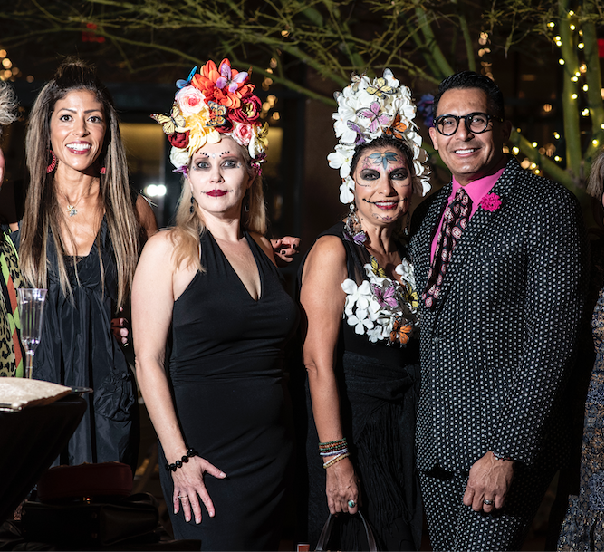 Kids in Focus Presents Third Noche para los Niños Benefit Event this Fall
After a year's hiatus, one of the most popular benefit events in the Valley will return on Thursday, November 4, when Kids in Focus hosts its third Noche para los Niños (Night for the Children) 6 p.m. on Thursday, November 4, at the Arizona Heritage Center at Papago Park (1300 N College Avenue, Tempe, AZ, 85281).
Kids in Focus is a nonprofit organization dedicated to helping Maricopa County's most at-risk youth see life through a new lens by providing resilience-building photography mentoring programs.Chaired by Stephanie Nowack, former CEO of the Tempe Tourism Office, Noche para los Niños is a spectacular Día de los Muertos (Day of the Dead)- inspired celebration for adults to benefit Kids in Focus.
The exciting and mysterious evening will feature a pageant of performers including contortionists, jugglers, tarot card readers, a mentalist, and other jaw-dropping surprises. Guests will also enjoy a hosted bar, delicious food stations from prominent Valley restaurants, a silent auction, raffle, and a stunning display of photos created by participants in the Kids in Focus program. "After taking a year off from events, we cannot wait to welcome our supporters to another spectacular Noche de los Niños this November, says Karen Shell, founder and executive director of Kids in Focus.
"The funds raised from this incredible event will help us reach even more kids who need this positive impact in their lives. Graduates of the Kids in Focus program experience profound improvements in behavior, attitude and self-confidence, and develop a resiliency that stays with them for life."
Each year over 78,600 Arizona children experience the trauma of abuse, neglect and/or homelessness. Kids in Focus transforms the lives and outlooks of more than 700 kids annually, connecting with children through partnerships with local organizations including Children First Leadership Academy, Boys and Girls Clubs, Sequoia Deaf School, and several foster care agencies.Funds raised at Noche para los Niños will be used to fund Kids in Focus' intensive photography mentoring programs for at-risk children in Maricopa County.
Through field trips, one-on-one time with mentors and the healing powers of photography, the children take a journey of creativity culminating in a public photography exhibit, a hardbound book and new self-confidence and hope for the future.Tickets are $175 through September 30. After that, the ticket price moves to $200. A limited number of tables can be purchased for $3,500 and sponsorship packages are also available. For more information on Noche para los Niños – A Night for the Children, visit kidsinfocus.org/events/.