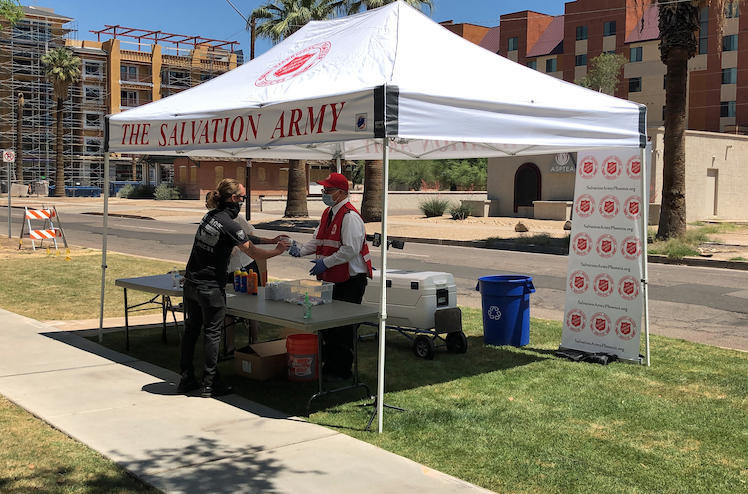 The Salvation Army Emergency Disaster Services to Activate July 9-10 For Excessive Heat Warning
The Salvation Army Emergency Disaster Services (EDS) will activate 11 heat relief stations throughout the Valley – where anyone in need can go for indoor cooling and hydration – during an Excessive Heat Warning issued by the National Weather Service for July 9-10.
Since May, The Salvation Army has provided heat relief to around 12,000 people and given out about 30,000 bottles of water.
"Anyone can come into a Salvation Army location for indoor cooling and hydration during regular operating hours, but when the National Weather Service issues an Excessive Heat Warning, The Salvation Army considers it a disaster situation, so our EDS team 'activates' our heat relief stations to another level," said Major David Yardley, The Salvation Army Metro Phoenix Program Coordinator. "We alert the media to help inform the public, and we post extra signage to guide people to each heat relief station, with some locations having canopies outside to give water and other available heat relief items to passersby. Salvation Army officers, staff and volunteers will also take water to those in need around their neighborhoods."
The following heat relief stations will be "activated" from 11 a.m. to 5 p.m. July 9-10 and on any day the National Weather Service has issued an Excessive Heat Warning (excluding federal holidays):
Apache Junction – Apache Junction Corps Community Center, 605 E. Broadway Ave.
Avondale – Estrella Mountain Corps Community Center, 11 N. Third Ave.
Chandler – Chandler Corps Community Center, 85 E. Saragosa St.
Glendale – Glendale Corps Community Center, 6010 W. Northern Ave.
Mesa – Mesa Corps Community Center, 241 E. Sixth St.
Phoenix
o Phoenix Citadel Corps Community Center, 628 N. Third Ave.
o Phoenix Maryvale Corps Community Center, 4318 W. Clarendon Ave.
o Ray & Joan Kroc Center Phoenix, 1375 E. Broadway Road
o Phoenix Family Services Office, 2707 E. Van Buren St., Bldg. 2
Surprise – North West Valley Corps Community Center, 17420 N. Avenue of the Arts Blvd.
Tempe – Tempe Corps Community Center, 40 E. University Drive
Mobile hydration units will also be dispatched from 11 a.m. to 5 p.m. July 9-10 to portions of the Valley identified as homeless encampments and areas with high homeless populations.
To maximize safety, The Salvation Army's heat relief efforts – which averages nearly 1,500 bottles of water given out a day during an Excessive Heat Warning – follow current recommended COVID-19 guidelines from local, state and federal health officials.
APS, DBP and Ford have each made significant donations of money and water to the Army's heat relief efforts. If you'd like to donate to help our neighbors in need facing the unbearable summer heat, visit SalvationArmyPhoenix.org or text HEAT to 51555. To volunteer at a heat relief station, contact your local Salvation Army or call 602-267-4100.
The Salvation Army EDS is part of the Maricopa Association of Governments' Heat Relief Regional Network, the goal of which is to provide resources for vulnerable people and help prevent heat-associated deaths.