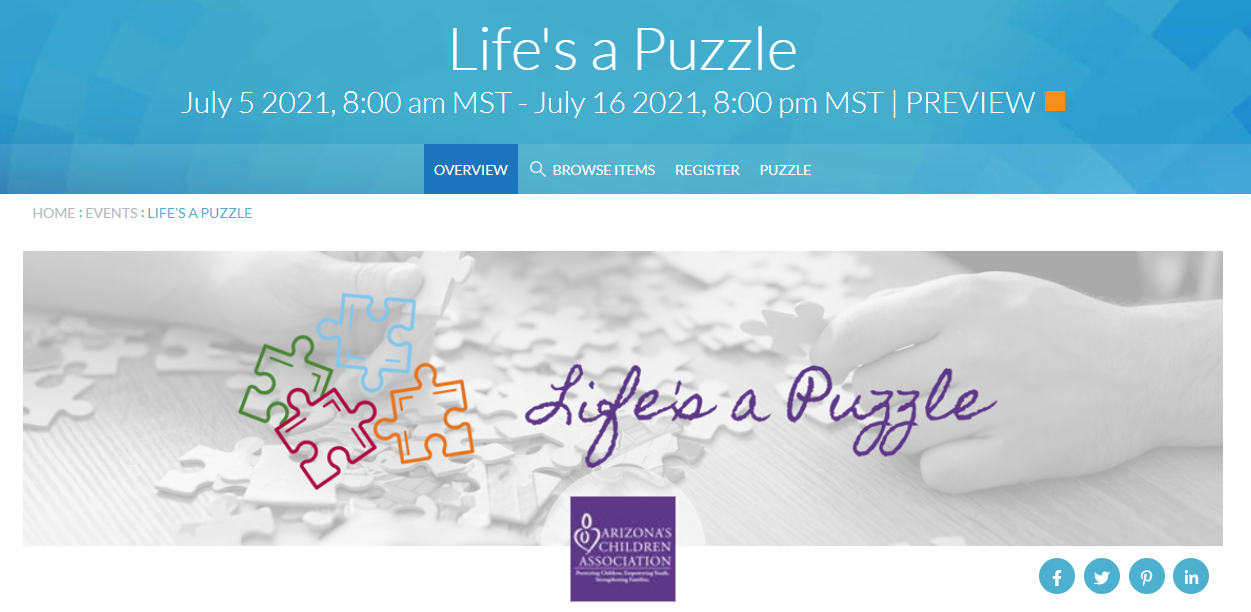 Foster Care and Adoption Agency Announces Inaugural Life's a Puzzle Fundraiser
Arizona's Children Association Raises Funds That Provide Essentials for Local Families
Join Arizona's Children Association (AzCA) on July 5 through 16 to help raise money for the nonprofit's vital programs and services. During the event, people can donate by purchasing puzzle pieces, which serve as a visual representation of individuals and community resources uniting to bring families together one puzzle at a time. Donations will be tax deductible as a charitable contribution to the extent allowed by law.
For the duration of the fundraiser, AzCA will be sharing one family's amazing story of success and journey with the organization. When the Williams family learned that their niece was going to be placed in out-of-home care, they began researching the process of becoming licensed foster care providers and found kinship support services through AzCA. With AzCA's support, they were able to take care of their niece, Aria, and help her cope with trauma she experienced. Today, she has a forever home with her extended family, who still has continued support from the nonprofit.
"The Williams family is just one example of how AzCA helps reunite Arizona's children with their loved ones," said Barbara Krusko, chief development officer. "By showing your support in the Life's a Puzzle fundraiser, you can help us provide this level of assistance to an even greater number of families that come to us in need."
Who: Arizona's Children Association, one of the oldest and largest statewide comprehensive child welfare and behavioral health not-for-profit agencies in Arizona.
What: Life's a Puzzle, a fundraiser to help Arizona families receive basic needs such as diapers, housing, bus passes, play therapy equipment, groceries, rent, electric bills and more. To donate, puzzle pieces will be available for purchase.
When: Monday, July 5 to Friday, July 16
Puzzle pieces will be live to purchase at 8 a.m. on July 5. The event closes at 8 p.m. on July 16.
Where: https://events.handbid.com/auctions/puzzle-piece-fundraiser-2021
Cost: The puzzle pieces are each $30, but more than one puzzle piece can be purchased at a time.
For more information on Life's a Puzzle and Arizona's Children Association, please visit the website at arizonaschildren.org and like on Facebook.