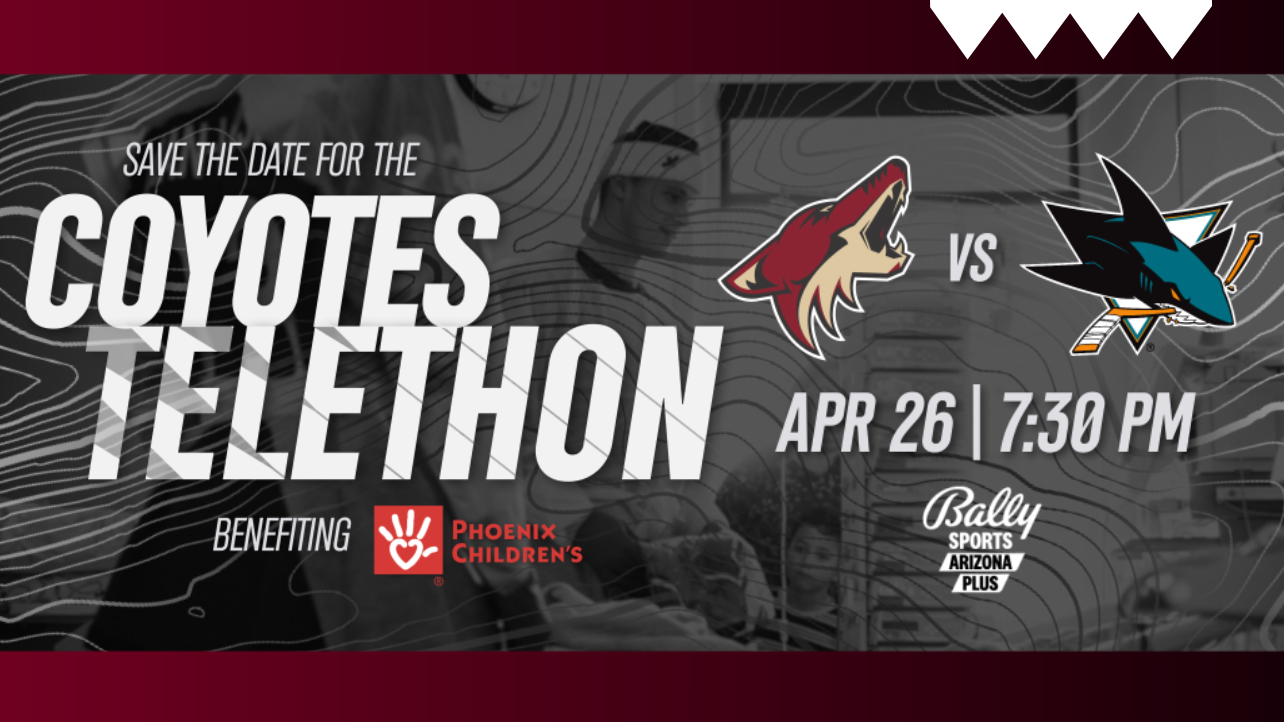 Next week is the in-game telethon with the Arizona Coyotes: Monday, April 26th.
Tune-in to Bally Sports Arizona Plus on April 26th at 7:30 pm for our Arizona Coyotes Telethon benefiting the Phoenix Children's Hospital.
Funds raised will go to the PCH Hope Fund. Many Phoenix Children's donors make targeted contributions that benefit specific programs. While these donations are essential to their mission, new and pressing needs arise throughout the year-for equipment, technology and more, often when time is of the essence. The Hope Fund allows Phoenix Children's to respond to these needs immediately.
Resources from the Hope Fund help Phoenix Children's respond to advances in technology, clinical trials and medical breakthroughs that directly impact a patient's recovery.
No parent is prepared when their child is seriously injured, spends years in chemotherapy or is born with half a heart. The fear and uncertainty of the journey is great. Your gift to the Hope Fund ensures Phoenix Children's is there for every child who needs them, in every way that matters.
Donors who participate at the $100 level will receive:
Exclusive reverse retro plush blanket (blanket can be donated to a child at PCH)Two (2) lower-level tickets to the Coyotes vs Kings game on either May 3 or 5th or can be used for select games in the 21-22 season.
Donors who participate at the $400 level will receive:
Coyotes #25 Kachina Jersey* signed by Oliver Ekman-Larsson, Shane Doan, Jeremy Roenick, and Keith Tkachuk

Two (2) lower-level tickets to the Coyotes vs Kings game on either May 3 or 5th or can be used for select games in the 21-22 season. *Jerseys will be produced at the time of donation so please allow 4-5 weeks for fulfillment
For more information on donation packages, please visit: https://www.nhl.com/coyotes/community/telethon