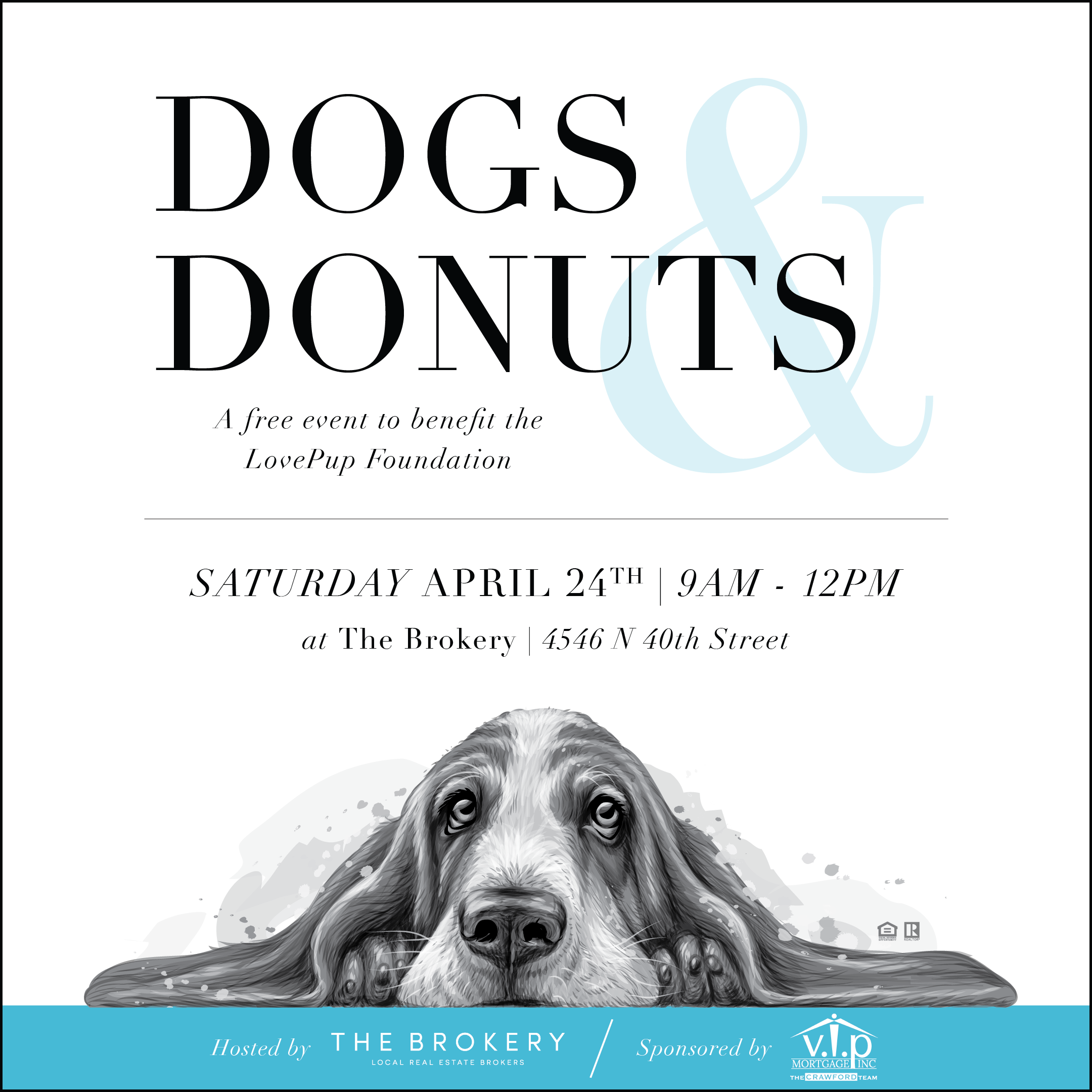 The Brokery is hosting a free Dogs and Donuts event at its 40th Street and Campbell office for neighbors and their dogs. Chin Up Donuts will provide a selection of their unique donuts with unexpected toppings. Run Buddy Mobile dog gym will offer free 5-10 minute free demos on their doggie treadmill. A limited number of pet portraits taken by noted local photographer Claudia Johnstone will also be available for a voluntary donation to benefit the Love Pup Foundation, who will also be hosting a table at the event. Guests are also asked to donate and bring donations of dog food, dog toys, and financial contributions for the Love Pup Foundation. This event is generously sponsored by The Crawford Team at VIP Mortgage.
WHEN: Saturday, April 24 from 9 am -Noon.
WHERE: The Brokery, 4546 N 40th St Phoenix, Arizona 85018
WHY: The Brokery is committed to being "relentlessly local" and that means hosting community events like Dogs and Donuts, featuring locally owned businesses. Plus, April in Arizona is the perfect time to get out with our pets and meet and mingle with neighbors and enjoy some delicious treats.
About The Brokery
The Brokery is a local, boutique residential real estate brokerage that is relentlessly focused on serving residents in neighborhoods across the greater Phoenix metropolitan area. Founded in 2012, by co-founders Tucker Blalock and Oleg Bortman, the company's number one goal is to provide unparalleled service and extensive market insight to the residents of their local community. Unlike many brokerages tucked away in corporate centers, The Brokery has neighborhood-centered offices that offer high visibility for their clients' properties in state-of-the-art showcases and allows for neighbors to engage one-on-one with local real estate experts. More information available at thebrokery.com