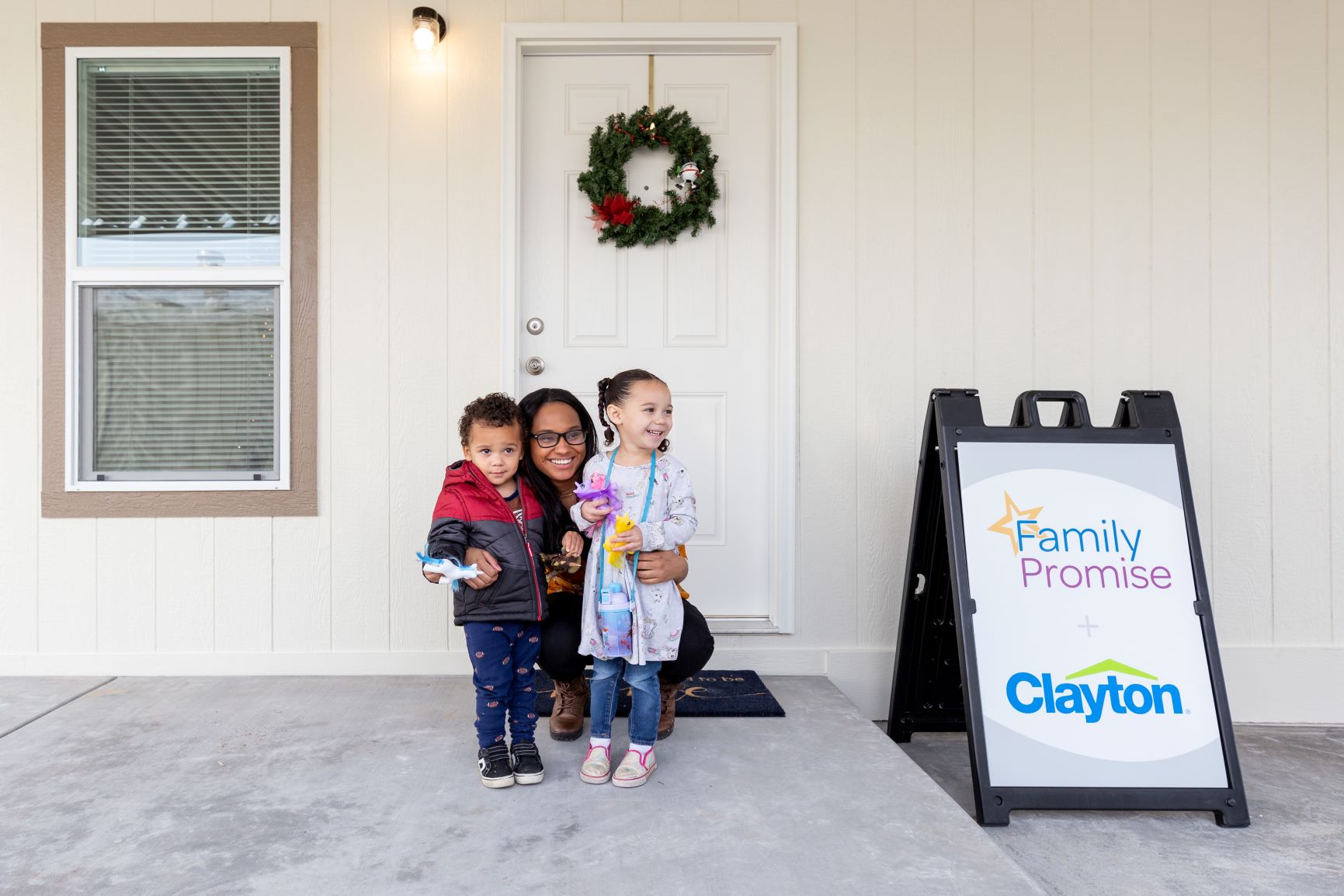 Family Who Overcame Homelessness Gifted Forever Home from Clayton® and Family Promise®
Family Promise selects local family who overcame homelessness to receive a new home from Clayton
This year has been challenging for many families and individuals, but for one previously homeless family, 2020 is the year they were given a new beginning as they were gifted a brand-new home. Family Promise of Greater Phoenix (Family Promise®), an organization that serves families with children who are currently homeless or at risk of experiencing homelessness, and Clayton, a national homebuilder of site-built and off-site built homes, recently celebrated the donation of a new off-site Clayton Built® home and welcomed a local family to homeownership.
Kameron and her two young children experienced homelessness after Kameron was forced to move out of her stable housing while she was pregnant with her second child. At that time, Kameron entered the Family Promise of Greater Phoenix congregational shelter program where she was able to access resources to start a new life for her family. She quickly graduated from the program after securing an apartment and a job but is still living paycheck to paycheck while trying to save up for the family's first car. This home donation will allow her to save more for a new car and will also allow her children to live in an incredible community at Peoria Polynesian Village.
"My family all grew up on welfare and living in apartments. I hope to make my family, especially my grandmother, proud as the first woman in my family to be a homeowner," said Kameron.
"At Clayton, we are dedicated to helping families open doors to a better life through attainable homeownership," said Lane Williams, General Manager at Clayton Homes of Glendale. "We are proud of the work that Kameron has done to ensure her family has a safe and prosperous future, and Clayton is honored to be part of the team helping their family achieve the dream of homeownership."
The home donation is the first in Arizona and part of a larger national partnership between Clayton and Family Promise, which works toward helping to end and prevent family homelessness. This is the final of five Clayton home donations through the A Future Begins at Home program this year. Through the home donation program and A Future Begins at Home, Clayton and Family Promise provide educational outreach and resource development, comprehensive case management, support services, and non-traditional, affordable housing solutions for graduate families, like off-site built housing and transitional housing.
"We are so grateful for partners like Clayton who are aligned in our mission to help families in need," said Ted Taylor, Executive Director of Family Promise of Greater Phoenix. "Congratulations to Kameron and her family, who will be able to create many memories as a family in this new home."
The donated off-site built home, constructed by Clayton and finished by Clayton Homes of Buckeye, a facility located 40 minutes from Phoenix, is an example of the many beautiful off-site built homes available for individuals and families seeking quality homeownership. Every off-site Clayton Built® home comes with energy-efficient features such as a smart programmable thermostat, energy-efficient appliances, and furnace to help with long-term utility savings.
About Clayton
Founded in 1956, Clayton is committed to opening doors to a better life and building happyness® through homeownership. As a diverse builder committed to quality and durability, Clayton offers traditional site-built homes and off-site built housing – including modular homes, manufactured homes, CrossMod™ homes, tiny homes, college dormitories, military barracks, and apartments. All Clayton Built® homes are proudly designed, engineered, and assembled in America. In 2019, Clayton built 51,964 homes across the country. Clayton is a Berkshire Hathaway company. For more information, visit claytonhomes.com.
*CrossMod™ is a trademark of the Manufactured Housing Institute.
About Family Promise of Greater Phoenix:
Family Promise envisions a nation in which every family has a home, a livelihood, and the chance to build a better future. Family Promise of Greater Phoenix rescues primarily first-time homeless families from the streets and provides emergency shelter and basic needs in a sixty-day program designed to assist their return to self-sufficiency. Their shelter includes a sanctuary for the family pet, the first such program in Arizona. Learn more at:
FamilyPromiseAZ.org.