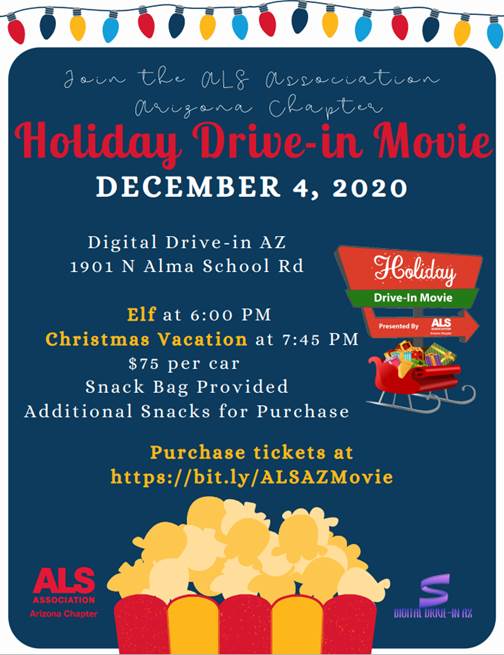 In-person gatherings may be limited this year, but there are still plenty of ways to celebrate the holidays with your family in a safe and fun way. This Friday, December 4, the ALS Association Arizona Chapter is hosting a Holiday Drive-In Movie experience beginning at 6 p.m. at Digital Drive-In AZ in Mesa!
For $75 per vehicle, guests can enjoy Elf starring Will Ferrell and Zooey Deschanel, followed by National Lampoon's Christmas Vacation at 7:45 p.m. Snack bags will be provided, and additional concessions will be available for purchase.
Money raised from this event will benefit patient and family services, community outreach, and research. Yearly expenses for those living with ALS average of $200,000. ALS representatives and patients helped by the chapter are available to discuss the importance of fundraising for this incurable disease.
To purchase a ticket to this event, please visit: https://thethompsoneventcenter.ticketspice.com/als-holiday-drive-in