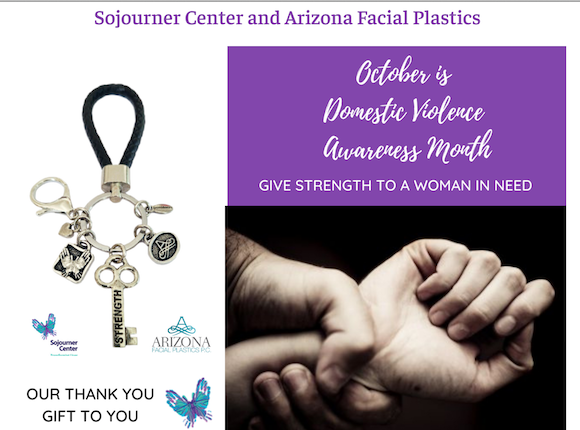 Arizona Facial Plastics and Sojourner Center have teamed up with Charity Charms to raise awareness and funds through their Key to Strength program. The timing coincides with Domestic Violence Awareness Month this month (October) and each $50 donation helps provide one night of safe shelter and services for a woman in need. This includes a safe and comfortable room, three warm meals, case management, workforce development case management, daily classes, traumatic brain injury assessment, and 24-hour access to pet companion shelter if they've brought their pet companion with them.
For every $50 donation made now through the end of October, supporters will receive a custom unisex key fob as a thank you gift which features charms from Sojourner Center and Arizona Facial Plastics to signify their bond and support. The goal is to raise $20,000 for Sojourner Center. All of the donations benefit the nonprofit due to the generous support of Arizona Facial Plastics who is funding the key fobs made by Charity Charms. More information available at www.charitycharms.com/kts-sojournercenter.
In addition, if you make a $50 donation in person at Arizona Facial Plastics, you will receive $50 off your next service.