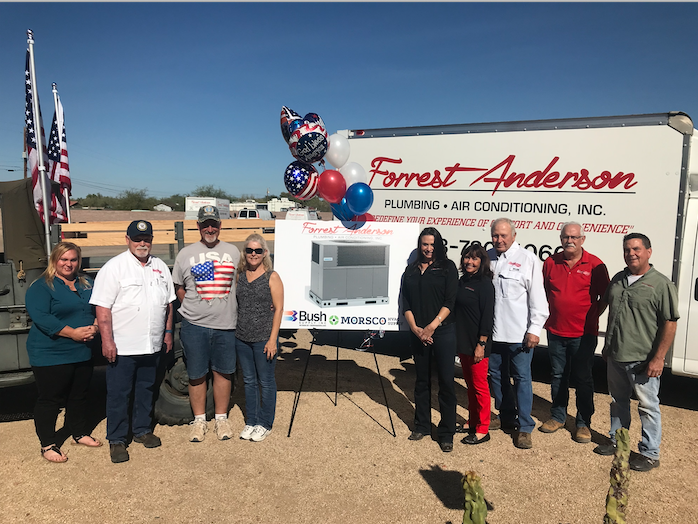 Honoring Veterans: Local Company Will Give a Deserving Veteran a Free A/C Unit
Forrest Anderson Plumbing and A/C Hosts 5th Annual Contest to Recognize Valley Veterans
For the fifth consecutive year, Forrest Anderson Plumbing and Air Conditioning (Forrest Anderson), a family-owned business in the Phoenix area since 1961, will honor men and women who bravely served or are currently serving in the U.S. military. Forrest Anderson's 2020 Military Hero A/C Giveaway will share the stories of local military heroes and award one Veteran or active duty servicemember a free air conditioning system with installation.
Starting today, anyone can nominate a military hero by filling out a short application on Forrest Anderson's website by October 12. A company panel will select up to five finalists and share their stories on Forrest Anderson's website and Facebook Page, where members of the public can vote for their favorite between Oct. 21- Nov. 4. The giveaway is open to active duty military, retired service members, and Veterans who were discharged under general or honorable conditions who own a home in Maricopa County.
"My grandfather, Forrest Anderson, started this company after serving our country in World War II and we feel it is our obligation as citizens to thank all Veterans and active duty service members for protecting our national security," said Audrey Monell, President of Forrest Anderson. "By sharing their stories, we hope to start conversations about the importance of supporting military members and their families who sacrifice so much, especially when deployed."
Monell also recognized industry partners, MORSCO HVAC/Bush Supply and Smiley Crane Service, whose generous contributions again this year made it possible to run the contest. Since 2016, Forrest Anderson has worked with local partners to sponsor the Military Hero A/C Giveaway each year around Veterans Day because they see the health risks of living without air conditioning in Arizona.
The deadline to nominate a veteran is Monday, October 12, 2020. The application and contest rules can be found at https://www.forrestanderson.net/military-hero-giveaway. Finalists will be announced on Wednesday, October 21, and the public will be encouraged to vote daily through the company's website through Nov. 4. The winner will be announced by Veterans Day, November 11, 2020.
About Forrest Anderson Plumbing, Heating and Air Conditioning:
Forrest Anderson Plumbing, Heating and Air Conditioning Inc. has been providing exceptional service to the Phoenix area since 1961. A third-generation family business, Forrest Anderson remains committed to its founder's core beliefs: treat your customers right, treat your employees right, do your best work, and always do the right thing. Forrest Anderson technicians operate under a four-point service model (understand, discuss, solve and deliver) to provide a consistent, high-quality experience each and every time. ROC: O68884, O80357, O68784, O32411. For more information, call 623-780-4060 or visit http://forrestanderson.net/.