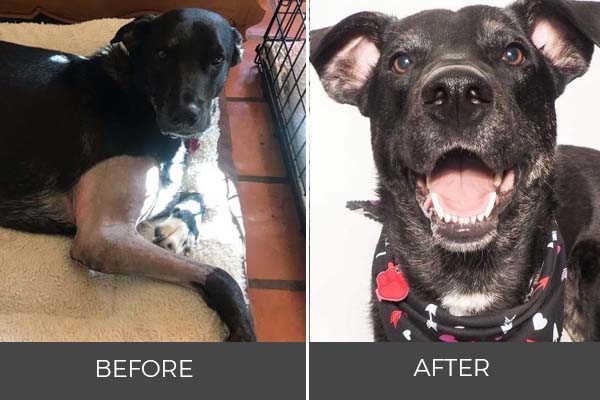 Celebrate the Success of This Renowned Event October 7th!
Benefiting PACC911- Phoenix Animal Care Coalition Medical Relief Programs
Who can't use a great story of tragedy to triumph! Several awe-inspiring stories will be the theme for Phoenix Animal Care Coalition (PACC911)'s annual Glimmer of Hope event, to be streamed live October 7th at 6 PM Pacific. Imagine finding Oscar at the county dump where he was literally buried alive. Some humans believe that animals have no value, and Oscar was discarded as trash. With the help of PACC911, Oscar was rescued and rushed to emergency veterinary care, where he was one whimper away from his final breath. Thanks to PACC911's Critical Care Program, Oscar now enjoys the life he was meant to have where he is loved and valued as part of the family.
Join us as we celebrate and share our mission of love and recovery, all from the comfort of your own home, with friends, family, and fellow animal-lovers. Witness the powerful stories of animals we have helped to save this year with our Medical Relief Programs. Some of these superstars will be featured live during the event.
This popular event features compelling videos of stars that we helped save through our Medical Relief Programs and is hosted by Ian Schwartz from CBS/KPHO Channel 5, one of the Valley's favorite meteorologists. Joining Ian will be special featured guest Jan D'Atri NBC/KPNX- Ch- 12 host, and host of KTAR's radio podcast Dishin' It Up.
Get ready for our wild, in-the-moment, heart-stopping live auction with celebrated auctiontainer Letitia Frye. Stellar live auction items will be offered to lucky bidders, including a one of kind piece of jewelry specially designed by Estate Jewelers, a Chef's table at Capital Grille accompanied by exceptional wine, and the opportunity to have your pet featured on the cover of People & Pets Magazine (formerly Phoenix Dog Magazine).
Over 80 items will be featured in the silent auction, which will be online Monday, October 5th – Sunday, October 11th.
This wonderful evening, which celebrates 800 animals rescued in 2019 and rehabilitated, giving them a second chance at life through our Medical Relief Programs, will inspire you and uplift you. (Rated 3 hankies and 5 smiles.)
Watch! Bid! Donate! Enjoy!
Reserve your spot now! https://pacc911.org/glimmer-of-hope-2020
This event is benefiting PACC911- Phoenix Animal Care Coalition.