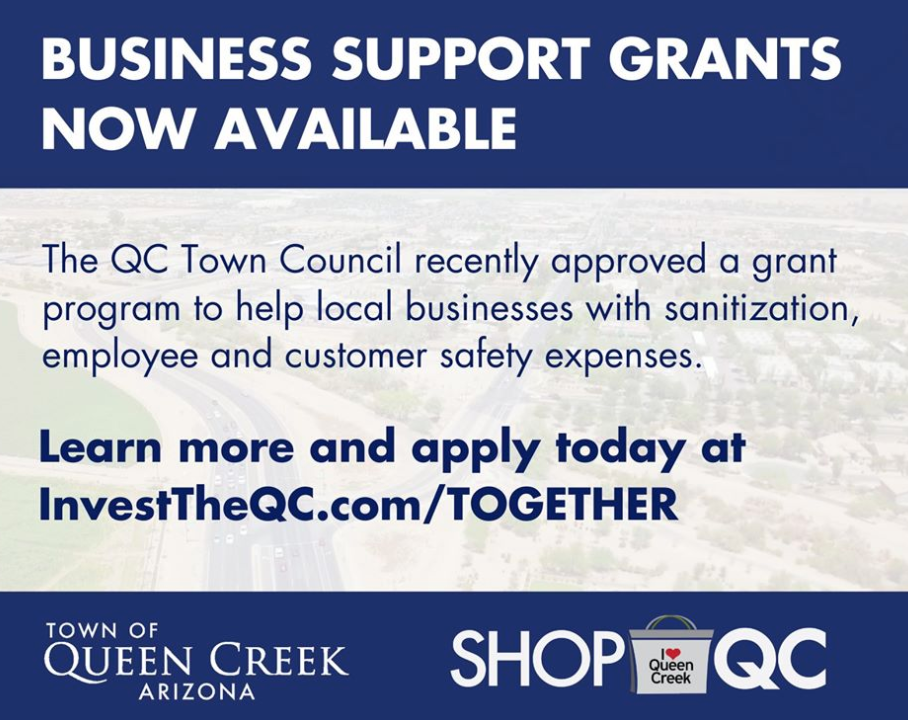 The Town continues efforts to support local businesses with a grant program that is now accepting applications, and a customer foot traffic and revenue-generation partnership through Arizona-based Hownd®. The grant program reimburses businesses for costs incurred in connection with enhanced sanitization, employee safety, and customer safety.
"We are committed to the success of our businesses and hope these opportunities provide much needed economic relief during COVID-19," stated Economic Development Director Doreen Cott.
"The grant program provides direct funding to our businesses that prioritize employee and customer safety. The Hownd partnership is an innovative and effortless way to connect our businesses with nearby consumers through digital channels. These are just two efforts to help our business community; we will continue to support our Queen Creek businesses and encourage our residents to do the same – we are stronger together."
Eligible businesses include for-profit, small businesses located at a physical address in Queen Creek (map) that have been operating since January 2020. Applicants must be qualified as "small businesses" as defined by the Small Business Act.
The grant money will be distributed based on the number of full-time equivalent employees (FTE) or contractors the business employed on March 1, 2020. For each FTE or contractor, the grant program will provide $500 per employee to be used to offset the expenses in connection with enhanced sanitization, employee safety, and customer safety. The maximum eligible award per business is $12,500.
To learn more and to apply, visit InvestTheQC.com/Together. The deadline to submit applications is Aug. 31 at 6 p.m. or until the funds are expended. Town Council authorized $500,000 for the business support grant program.
The Town is also excited to partner with Hownd to help generate immediate cash sales and future foot traffic for brick-and-mortar businesses. The partnership is an extension of the Town's Shop QC program. Local businesses are invited to work with Hownd to make their promotional offers available to nearby consumers. These offers can include "Buy Now" offers, coupons, value-add packages, as well as "Support Vouchers" which are similar to digital gift cards.
Vouchers are easily purchased and don't expire. When vouchers are purchased, all proceeds immediately go directly into the business' account – individuals save the vouchers and then use/redeem them later at their convenience. The Town of Queen Creek is funding $7,500 toward the fees that local brick-and-mortar Queen Creek businesses would normally pay Hownd. The Town's sponsorship of this program, coupled with the fact that Hownd doesn't charge a set-up fee or require a monthly subscription, makes this a zero-risk solution for local businesses.
Queen Creek businesses can learn more about the program, request information, and sign up by visiting Hownd.com/QueenCreek. They can also visit InvestTheQC.com/Together. Consumers can support local Queen Creek businesses through this program by downloading the MyHownd mobile app from their favorite app store. Want to learn more about Hownd and the Town's partnership? Save the date for a webinar on Tuesday, July 28 at 2:30 p.m.
These are two additional efforts to support local businesses. For more resources, visit InvestTheQC.com/Together.
For more information about Queen Creek's Economic Development Department, visit QueenCreek.org/InvestTheQC or follow Twitter.com/InvestTheQC and Facebook.com/DowntownQueenCreek.