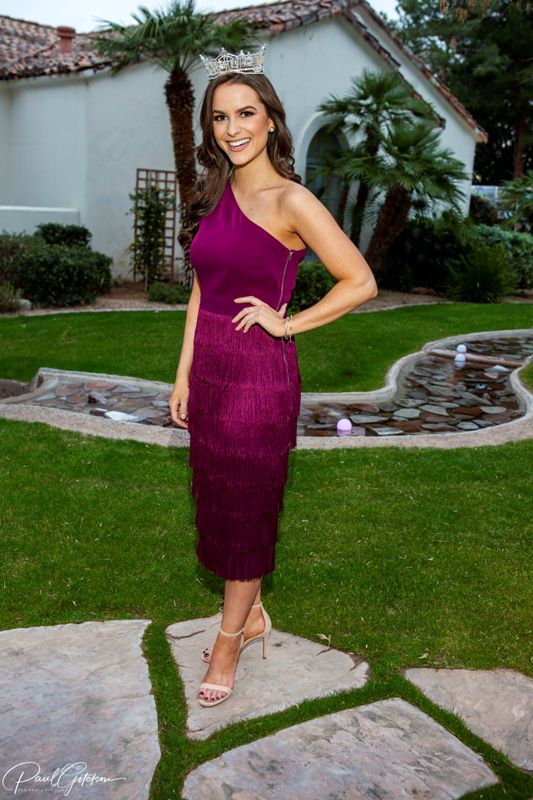 Photo by Paul Gitelson
American pageantry has long been considered the United States' answer to the British Monarchy – complemented by glittery tiaras, floor-length gowns and a mysteriously, dazzling allure that only those who win the competition ever seem to possess.
For many years, the pageant was argued to place more of an emphasis on beauty, rather than with substance and talent. Though as our society has shifted the way in which we regard women to be powerful, influential and beautiful, the competition has similarly evolved. Competitors now have the chance to exemplify the ways in which women can, in fact, be absolutely everything: talented, kind, curious, brilliant, confident, loving, flawed and undeniably beautiful. The best part? They can embody all of it in their own wonderfully unique way.
And no winner has exemplified this complexity and progressive nature more than the Miss America 2020 winner, Camille Schrier. In fact, Schrier regards the experience as a "bucket list item." It's an adventure she has the chance to embark on for the year, before returning back to her pharmaceutical studies. It's an opportunity she never expected to have. But more so, it's a responsibility that she's admittedly proud to take on. "I will crown the 100th Anniversary Miss America [winner] – so, I'm quite literally bringing the organization into a new century. And I think that I have a lot of responsibility to keep Miss America relevant."
Schrier is embracing the opportunity by simply doing what she knows best – just being Camille. The same girl who grew up working in a barn, riding horses and being science-obsessed has maintained that same charm throughout the years, even while navigating the responsibilities that came with wearing the crown of Miss Virginia - and now, with wearing the crown of Miss America. "People have this perception of what Miss America should look like and what Miss America should act like. At the end of the day, I'm just me – regardless of whether or not I have this [crown] on my head or not," says Schrier. "And that's part of what I want everyone to see about Miss America. I'm just a normal girl who has a really special job for a year."
Between the constant travel, the speeches and the endless photo-ops that inevitably come with being Miss America, at the heart of her job, Schrier is championing issues that she feels need more recognition. And now, she has the platform to do it. After Schrier crowns a new title-holder later this year, she'll continue her education in grad school, where she hopes to see her science dreams come to fruition by transitioning into an executive role in the pharmaceutical industry.
Her interest in advocating for drug safety and abuse preventions – more specifically, through supporting victims of the opioid crisis – has encouraged her to also become a voice for brain injury survivors. Many of whom fall into struggles with brain injury as a result of drug addiction. Schrier's desire to champion this issue led her to Paradise Valley this past weekend, where she served as the guest of honor at a cocktail party hosted by the Brain Injury Alliance of Arizona (BIAAZ). "If my platform alone can help to raise dollars on this sort of issue, and for an organization that's supporting this issue - especially from a healthcare perspective - that's really all I could ask for."
This is the second year that the BIAAZ has worked with Miss America to host this event, and shed more of a light on the subject matter – specifically here in the Valley. The nonprofit serves as a vetted database of specialists that understand brain injury, and that can help those suffering get immediate care, rather than having to navigate through a segmented healthcare system. Carrie Collins-Fadell, executive director at the BIAAZ, refers to the organization as something of a "hidden gem," because there isn't necessarily an informative conversation that's happening around brain injuries. "The message isn't getting out that treatment and help are available if you feel your cognitive processing speed has been impaired," says Collins-Fadell.
The cocktail party served as an opportunity to kick off the organization's statewide opioid misuse and cognitive impairment workgroup – with the help of Miss America, of course. "She's [Schrier] shining a light on a cause that really is hidden from those who aren't directly impacted by it. Brain injury doesn't discriminate, and it doesn't stay in one certain zip code. So, she's bringing attention to services and programs that any one of us could need at any moment."