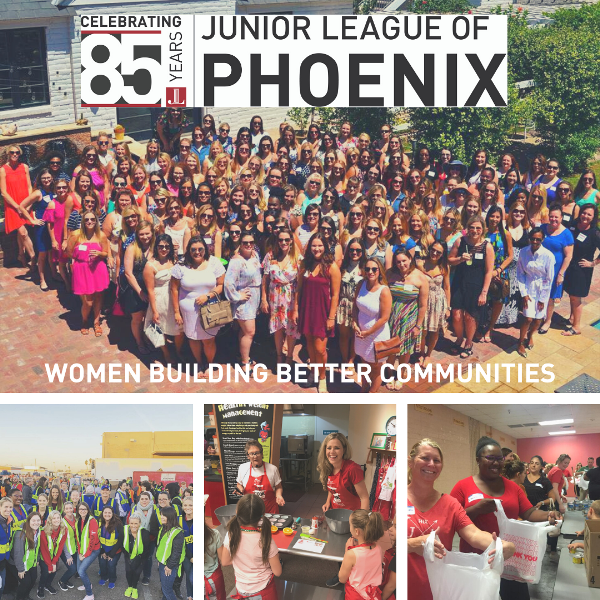 For 85 years, Junior League of Phoenix (JLP) has positively impacted the Greater Phoenix community with their mission of promoting voluntarism, developing the potential of women and improving the Valley of the Sun through the effective action and leadership of trained volunteers.
As an organization that is currently more than 1,000 members strong, JLP has a long history of making Phoenix a better place, and they show no signs of slowing down now. Since 1930, this organization has been involved in hundreds of projects and has worked alongside 140 community partners to combine efforts and make an even greater impact in the community.
"The Junior League of Phoenix has been instrumental in changing the fabric of our community since initially incorporated as the Welfare League of Phoenix in 1930. From helping war efforts to advocating and funding efforts to preserve Camelback Mountain, renovating Rosson House and Orpheum Theatre to bringing Komen Race for the Cure to Phoenix, establishing the Ronald McDonald House, assisting with building the Phoenix Zoo Education Center, Arizona Science Center, Ryan House and Children's Museum of Phoenix; the Junior League has made a positive difference in our community," says Junior League of Phoenix President Wendy Brooks.
JLP believes that all people in Phoenix should have access to healthy food and to the information that can help them improve their families' health. Their current focus on "Building a Healthy Arizona" includes supporting programs addressing: (1) food insecurity/food access; and (2) nutrition and obesity.
Arizona ranks 15th worst in the country for food insecurity. The obesity rate has more than doubled over the last 15 years in the state, and the USDA's "Food Desert" locator shows 55 areas in Maricopa County alone where people have low access to a supermarket or large grocery store. JLP's programming helps fight hunger in the Greater Phoenix area to improve and enrich the lives of our community and hopes to reach even more people in need.
This February, the Junior League of Phoenix is celebrating 85 years of service to the community with an $85,000 grant to Phoenix Rescue Mission, a nonprofit organization dedicated to providing solutions to end hunger, homelessness, addiction and trauma. The grant will allow Phoenix Rescue Mission to expand its current food bank program with a mobile food pantry and portable kitchen units to reach even more hungry families in need.
"With this grant to Phoenix Rescue Mission, we continue that tradition of contributing to sustainable community change knowing that only a coalition of change makers will move the needle and our organization is and will continue to be at the forefront of that movement," says Brooks.
To learn more about Junior League of Phoenix or to join this organization of women, visit jlp.org.