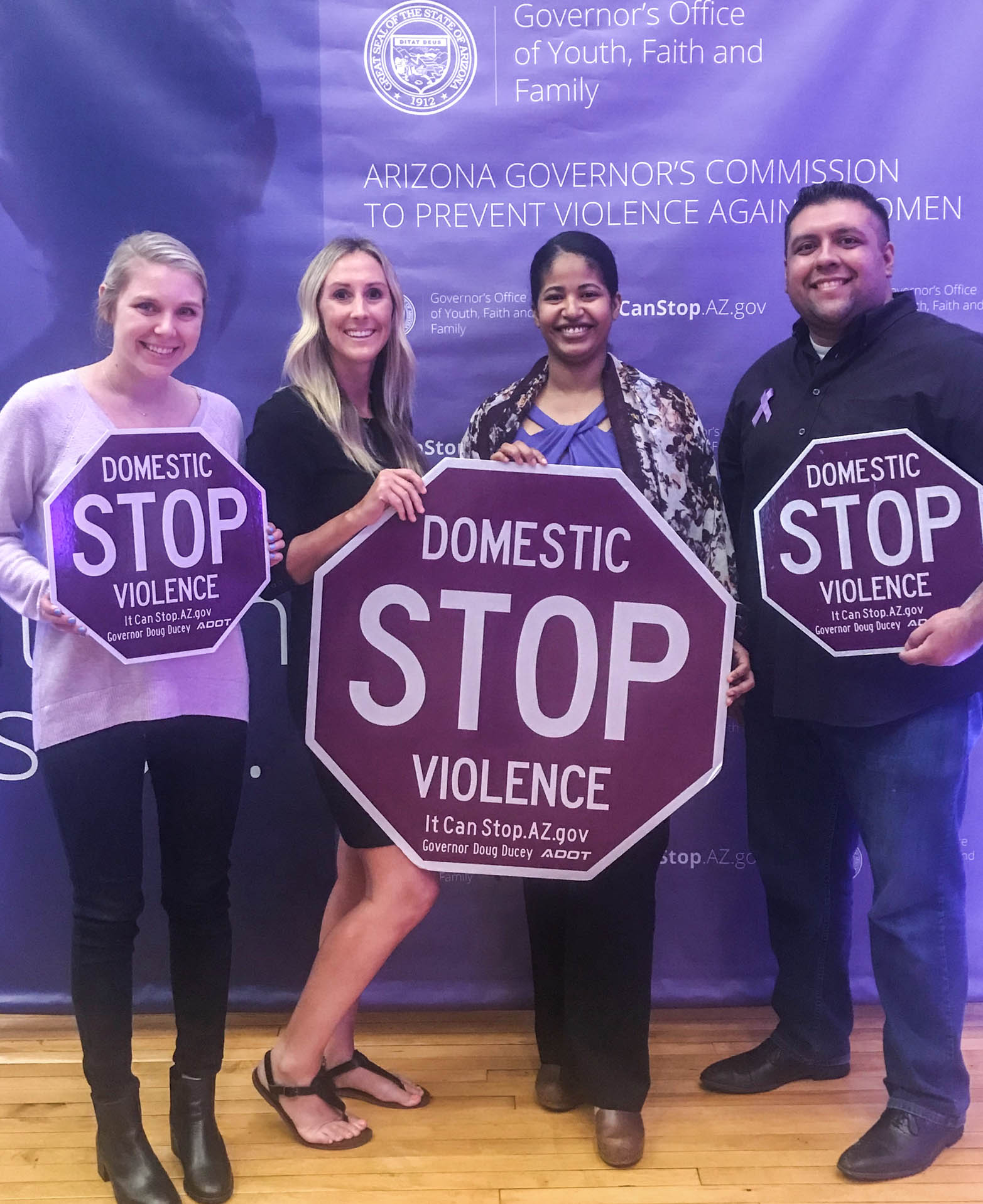 As one of the largest domestic violence shelters in the country, New Life Center continually pursues a violence-free Arizona. In 2018, the local shelter provided 33,000 safe bed nights to survivors, over 27,000 meals to children and 12,000-plus hours of individual support to survivors.
In 1986, a group of soroptimist women attended an out-of-state domestic violence conference that inspired them to open the West Valley's first shelter. Understanding such services to be imperative, they partnered with the city to dissolve stigmas surrounding domestic violence. In 1991, New Life Center opened in the Wigwam dormitories. Initially a grassroots shelter with less than 10 beds, it is now Arizona's largest domestic violence shelter.
"Our vision is to have a violence-free Arizona," says CEO Myriah Mhoon. "Part of our goal is to create trauma-informed, holistic resources for victims of domestic violence, sexual violence and family violence."
A holistic approach to healing provides services unique to each survivor. New Life Center aims to "make sure people are identifying their own means of success." In addition to case management, safety planning, groups, a child development center and mobile advocacy, the shelter has also strengthened sexual assault services. The state recently granted New Life Center a contract to provide best-practice standards training on sexual assault investigation and response to prosecutors and law enforcement. The goal is "making sure prosecutors and law enforcement are up to date in trauma-informed language, mannerisms and how they are investigating and working with survivors," Mhoon says.
Survivor Liahla Roberts echoed the power of New Life Center's wrap-around services. As a mother of seven, Roberts could not uproot her life to reside in the shelter. Instead, mobile and legal advocates met with her weekly at Estrella Mountain Community College. After identifying her abuser as highly likely to commit a fatal act, Roberts realized she had to make a plan to get out of her home. The shelter assisted in breaking her lease and finding funding. In December 2017, Roberts and her children found a new home. She told them, "Your Christmas present is this safe place." New Life Center extended its support by providing them with gifts and other necessities. "[I feel] strong and adamant about being proactive against domestic violence and helping with initiatives to be proactive so that people are aware," Roberts says.
Continued success requires community relationships. Like most nonprofits, New Life Center relies on donations. "When I do tours, it always hits home when I take people back to our storage room. New Life Center is providing every single necessity for the whole family," Mhoon says. The community has opportunities to donate such items to New Life Center or its thrift store, Hope's Closet, where all proceeds return to the shelter. Additionally, the shelter is tax-credit sponsored and has chances for direct involvement.
For an even brighter future, Mhoon says New Life Center works tirelessly "to make sure that we're not only training on a macro level of first responders, but that we're also strategically looking at prevention and making sure that we are continually the experts of the trauma-informed practice of direct service."