Rick Owens, a designer that prances on the edge of fashion with a fondness for all things dark, mysterious and indefinably glamorous. The self-professed "outsider" studied fine arts at Otis College of Art and Design before dropping out after taking a pattern-making class that would pioneer his interest in fashion and forever change the perception of Rick Owens.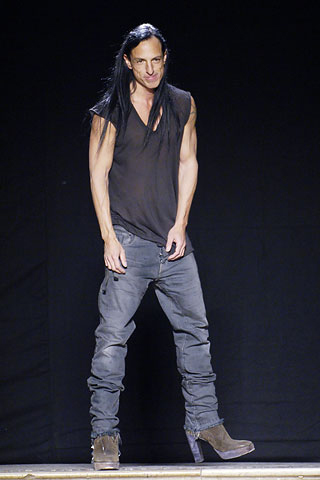 Launching his own label in 1994, Owens sold exclusively to Charles Gallay and then in 2001, he began production in Italy for worldwide distribution. It wasn't until Kate Moss sported one of his distressed leather jackets in Vogue Paris that the L.A based designer was noticed by the masses. The extreme silhouettes of his leather jackets, zigzagging zippers and unconventional cuts of his garments would land him a CFDA, Perry Ellis Emerging Talent Award in 2002.
His wife since 2003, Michele Lamy (then owner of the Les Deux Cafe in Los Angeles) and Rick transferred to Paris. Rick Owens futuristic and sometimes eerie aesthetic has made him a one-of-a kind winner in today's fashion market with an almost religious observance from his fans. At first glance, Owens' clothing look gothic and perhaps conceivably unapproachable, but with a second look and examination you identify that the garments are soaked with refined elegance.
In these thin economical times, how do you inspire people to buy your clothing?
We don't really have a strategy. I suspect that my aesthetic is so narrow and specific that it only appeals to a niche group that does what they have to do to sleek it out. I'm surprised as you are that we've made it this far.
What effects/inspires your design atheistic most?
I imagine that the languid elegance of the 1930's must, as quite a revolution to the period before that, in all fields of design. That ideas of a release of breath after a cluttered stuffiness appeals to me tremendously. Simply, rational, graceful lines. I look at architecture a lot too. Carlo Scarpa, Luigi Morreti, Claude Parent, Le Corbusier being among my favorites.
What is the biggest challenge you have faced professionally in your career?
Communication and exposure. When I started in L.A., I had a pretty insulated little story going. When I decided to start manufacturing in Italy, I had to communicate with a lot of people all of the time, in broken english and follow a whole new schedule and then expressing what I wanted to on a runway was tricky too. But it all worked out pretty well and I'm having a blast now.
When designing a collection, what is your creative process?
It's a rolling along process. I'm always writing lists and notes of ideas to myself and when its tome to launch collections I just edit and collect my notes and see what comes out. I'm always working on three or four collections simultaneously, so I just kind of weave back and forth all the time.
Where and when did you meet your wife Michele Lamy?
I worked for her design company in L.A for two years before I could understand a word she said (heavy french accent) and then we connected and have been together over 20 years. After running her fantastic restaurant, Les Deux Cafe, she just dropped it so we could move to Paris. Eventually she fell in love with working with the fur artisans and marble and bronze ateliers who produce our furs and furniture and decided to concentrate on that. The fur and furniture wouldn't be happening without her loving cultivation.
Do you have any plans for another furniture collection?
The furniture has taken on a life of its own. The furniture is represented by Jousse Gallery in Paris and we continuously introduce new pieces. I have an atelier in Poland manufacturing it. I have a Paris show, a New York show and a L.A. show scheduled for the coming year.
When did you realize that you had arrived, the highlight of your career?
Well, having a profile in The New Yorker was something I would never would have dreamed of.