Events: Arizona - Phoenix - Scottsdale
Tweet

Due to the wave of coronavirus rescheduling and cancellation we advise all readers to assume events listed here have been disrupted and to check the web sites or contact them for event status.
Event
Title:

The Pumpkin & Chili Party

When:

10.03.2019 - 10.27.2019

Where:

Schnepf Farms - Queen Creek

Category:
Description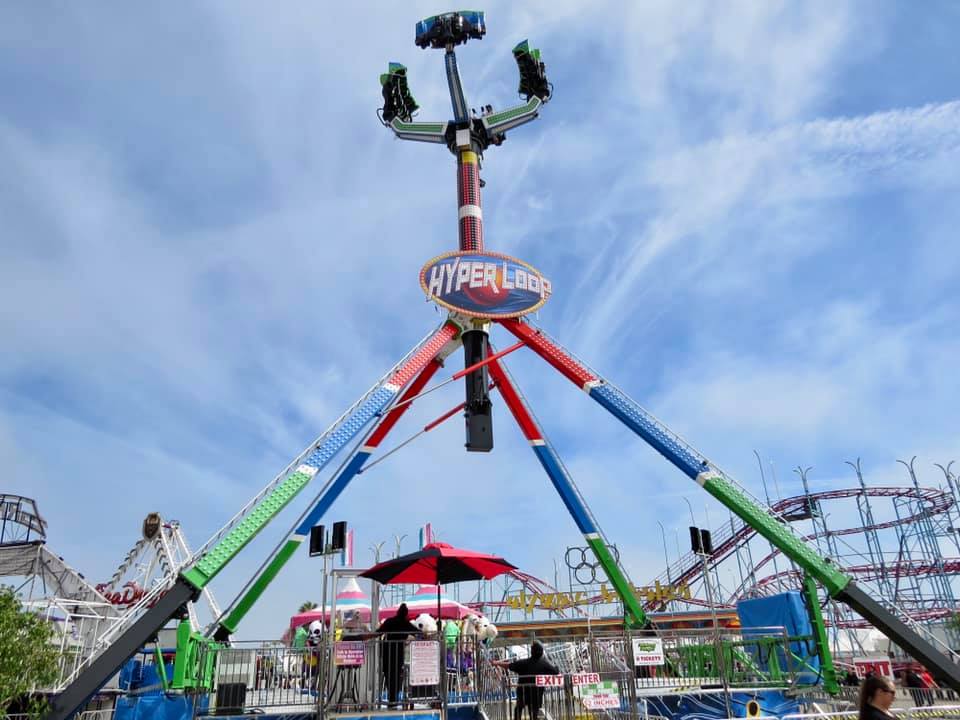 Schnepf Farms is stepping into the big time this year for their Pumpkin & Chili Party. Over the past 8 months, the Schnepf crew has been creating, refurbishing, brainstorming and cleaning the farm for an exciting October.
"This is my most favorite event to do on the farm, and me being the person who loves the extreme coasters and exciting rides, I thought it was about time to pick up the pace," says Carrie Schnepf, event organize and owner. "Families have been coming to the Pumpkin & Chili Party for generations." We figured we wanted those older "kids," to come back to reminisce and create new memories, so we have added our first "extreme ride."
"The Hyper-Loop is a ride that swings back and forth until you go full circle while 75 feet in the air," says Schnepf. "One ride doesn't quite make us a theme park, but we are getting a little closer." Other new attractions include a new zip line, a mini ferris wheel and a spinning teacup ride. The 10-acre corn maze won't feature a celebrity this year, but it has been carved into one of the most difficult mazes in the country, according to the Maize Company.
Back by popular demand is the The Amazing STUNT Dog Show, Honeybee Adventure, Flying Farmers, Lookout Towner, mini zip lines, mini golf (glow in the dark at night), four-acre corn maze, jumping pillows, petting zoo, swingin lady bugs. Don't forget the family favorites, bonfires and marshmallow roasting, the train ride, that becomes spooky at night and fireworks shooting off every Friday and Saturday night.
Celebrating 20 years, Hillbilly Bob, aka Michael Jones, will be racing his little piggy's throughout the day. This year we are going to have a celebration, complete with cake! The celebratory birthday is scheduled for October 12th, 25th and 26th. Jones has been playing the part of Hillbilly Bob to hundreds of thousands of guests over the past 20 years.
There are plenty of farm fresh food options with new and improved locations to limit the lines all served up on seven different grills. Guests will be able to enjoy chili dinners (veggies, meat and pumpkin chili), fresh grilled pizza, a mac n cheese bar, burgers, hotdogs, pulled pork and one of the more popular succotash.
The Pumpkin & Chili Party is set to open October 3rd through the 27th. Come visit Tuesday and Wednesday from 4pm to 9pm and Thursdays from 10am to 9pm, Fridays and Saturdays from 10am to 10pm and Sundays from 10am to 9pm.
ADMISSION is $22 plus tax at the gate. $5 discount if you purchase at FRYS. SRP thrifty Thursday (Buy 1 get 1 FREE) with an SRP Coupon. Each coupon is good for up to four people. Fridays are grandparents day--for each paid grandparent at the gate, 1 grandchild will get in for free. The farm supports our military - Any military personal who shows their military ID at the gate, will receive free admission. NEW THIS YEAR Purchase a SEASON PASS. This ticket allows you to come back as many times as you would like throughout the month, except the BLACKOUT DATES of October 19th & 20th.
Free Parking & Shuttle provided by Sonic. Admission includes all rides. Additional costs are food, pumpkins, pony rides and train ride.