Events: Arizona - Phoenix - Scottsdale
Event
Title:

Sedona Northern Lights Holiday Spectacular

When:

12.14.2017 - 12.17.2017

Where:

Various - Sedona

Category:
Description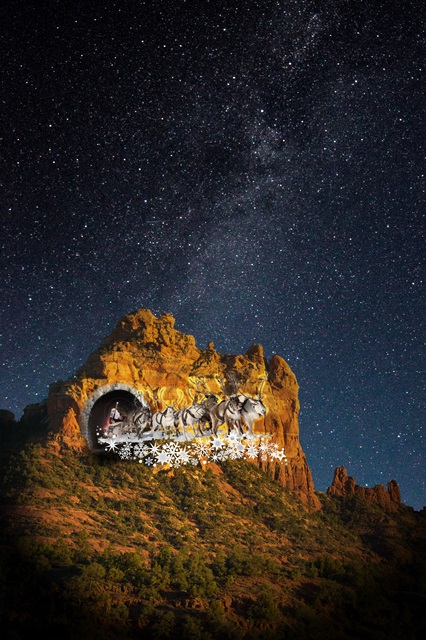 Celebrate the spirit of the holiday season in Sedona with USA's largest Projection show on a natural canvas: Sedona Northern Lights. Produced by LA-based PaintScaping, a world leader in 3D projection mapping, this massive holiday light show will occur for only four nights from December 14-17, 2017, and will showcase Sedona's profound beauty, thriving arts scene, dark skies and enchanting landscapes. Presented by the City of Sedona, the Sedona Chamber of Commerce & Tourism Bureau and the Sedona Arts Center, Sedona Northern Lights will bring together light, art and nature to create a festive and awe-inspiring family-friendly experience.
3D projection mapping is a high-tech method of turning objects—often irregularly shaped—into display surfaces for video projection. By projecting 3D art onto Camelhead Rock (located next to Sedona's famous Snoopy Rock formation), Sedona Northern Lights will virtually transform the natural landscape, making it USA's largest natural 3D light painting experience.
Viewing areas can be found here.
To learn more about PaintScaping, visit: https://www.PaintScaping.com
To learn more about projection mapping, visit: https://en.wikipedia.org/wiki/Projection_mapping