Page 3 of 6
Here's a word to the wise, plan now for this year's fest. Like Sundance, you've got to get in on the action while the indie vibe is alive, before brands, banners and business override the party. If heading in, here's a quick pic of what's in store, a wee window in to what The Hip Sispter got in to, all the sips and swizzles experienced at the intoxicating event.
The party started in a shared airport van, with San Fran's bar star, Manny Hinejo and the Chartreuse team who gave me a baby bottle to take with. I did a quick change at The Ritz Carlton's Maison Orleans, touted one of the world's best by Robb Report and Travel & Leisure. It was my third visit to The Ritz, my NOLA home away from home.
I all but ran to Hotel Monteleone knowing I already missed a few hours of the fest. Next year leave on Tuesday. First official sip was the Bloggers Reception sponsored by Rio Mar, restaurant, which served insane small plates paired with Cabana Cachaca, the new Latin spirit gaining lots of heat behind the bar and at culinary table across the country..
It was easily 6,000 degrees in NOLA. So, I ran to The Ritz and changed before the evening's festivities. The opening party sponsored by Beefeaters Gin was chock a block at The Palace Café on Canal. Bar star Audrey Saunders of New York's famed Pegu Club seamlessly served champagne punch and cool Gin Gin Mules! Manny was in the house as was Thirsty Traveler's Kevin Brauch, who's adorable!
The crowd migrated to Arnaud's, a jewel in The Quarter, where Rhem Clement Rum hosted Save The Daiquiri Party. Behind the bar was San Fran's adorable Duggan of Cantina and New York's Gardner, who I met two years ago at 42 Below's Cocktail World Cup in New Zealand. He's a talented one, filled with mischief.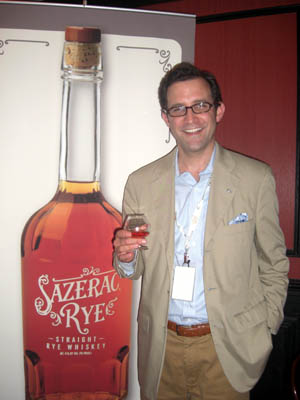 Friday I made an innocent, yet brilliant mistake by showing up at Bourbons, Blues and Bluegrass lunch at Dickie Brennan's Bourbon House hosted by New York's Allen Katz. It was a highlight, an intimate event where Katz made connections between spirits and song. He likened the syncopation of music to the syncopation experienced if one stuck their forearm in to Buffalo Trace's Whiskey still. Katz had all of us, inclusive of Dickie and crew, on our feet in between courses with Buffalo Trace and Sazerac Rye whiskey in hand, singing the blues. Between that and the corn & crab soup, glazed pork confit and the maple ice cream with chocolate dipped bacon, it was a bit of southern bliss!
You know it's top tier if the Godfather (think DeNiro, even better Brando) of the American cocktail culture Dale De Groff is in attendance. I sat with NOLA's own liquid luminary Chris McMillan and his wife. They together with the De Groff's are founders of The American Cocktail Museum, which opened its doors in NOLA that weekend.