Spontaneity is certainly fun when it comes to making vacation plans or splurging on a new pair of shoes. Why not apply that same sort of improvisation to your dinner? That's exactly what chef and owner Joshua Hebert did with his new Scottsdale-based restaurant, Posh.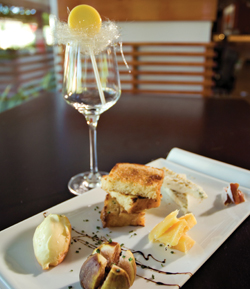 When it comes to food, people don't like to be kept in the dark—most of the time. The new Posh restaurant located below Optima Camelview, though, dishes up divine "improvisational cuisine" in a mod black, white and orange package. Though "improvisational cuisine" may not be a type of fare that you're familiar with, it's exactly as it sounds. Here's the deal: Upon arrival, diners are given a check-off sheet in lieu of a traditional restaurant menu. Guests choose the number of courses they'd like (four being the minimum, with or without wine pairings) and if they want their meal to be in seafood, meat, vegetarian or chef's choice format. Then, diners cross out which meats and seafood they cannot or do not want to eat from a list that includes a few rather adventurous ingredients like kangaroo, frog legs and more. Finally, Posh guests have the opportunity to make general notes about their food preferences and allergies. With these few guidelines, chef and owner Joshua Hebert creates a truly unique meal for Posh patrons—who don't know what's coming until it's sitting in front of them.
We left our dinner entirely in Hebert's hands, as we decided on the chef's choice menu and didn't opt out of any of the possible ingredients. Our first course consisted of a cooling salad of spinach, peach and cherry slices, and blue cheese as well as a bowl of popcorn soup, garnished with popped kernels. The idea of popcorn soup is interesting enough, and, luckily, it was backed up with supreme flavor.
Next up, we enjoyed two seafood dishes: rainbow trout with corn pudding and hebi with Chinese long beans and cucumber raita. The trout was flaky and mild, and served as a nice canvas for the dish's real scene-stealer: the sweet corn pudding. The hebi (which is a spearfish from Hawaii) also had a mild taste and was a nice complement to the unique vegetable sides.
The third carnivorous course featured a mustard-braised veal cheek with potato chip pasta, constructed similarly to a ravioli. The veal was melt-in-your-mouth tender and offered a perfect hint of the mustard flavor. We also indulged in seared kangaroo. And though this entrée doesn't appear to be for the faint of stomach, the meat was similar to steak—only much richer, almost buttery. This kangaroo dish was served with ginger carrots and bok choy, which definitely slashed the meat's heavy flavor.
The cheese plate was a pleasant surprise. The dish included three varied cheeses—our favorite being the Humboldt Fog goat cheese—as well as crispy bread and a dollop of local honey. Even dessert was improvised, and we were kept on the edge of our seats until the sweet stuff arrived at our table. We were presented with an apple cider panna cotta and a lemon posset, each paired with a delectable tower of white chocolate mousse, thin sheets of dark chocolate and raspberry sauce. The panna cotta was tangy while the posset was incredibly refreshing; both were balanced out nicely by the mellow chocolate.
And we weren't allowed out the door without a few more treats to remember Posh by: a flash-frozen strawberry-curd lollipop and a quartet of homemade cookies and biscotti to take on the road, which we promptly gobbled down before our car even left the parking garage.
Take Note:
Posh
7167 E. Rancho Vista Dr., Ste. 111,  Scottsdale. 480.663.7674, www.poshscottsdale.com.
Chef: Joshua Hebert.
Hours: Tuesday through Saturday; open at 5 p.m.