At North Scottsdale's new Autostrada Osteria & Enotecca, it's all about approachable Italian eats with reasonable price tags dished out in one cool-looking neighborhood nook.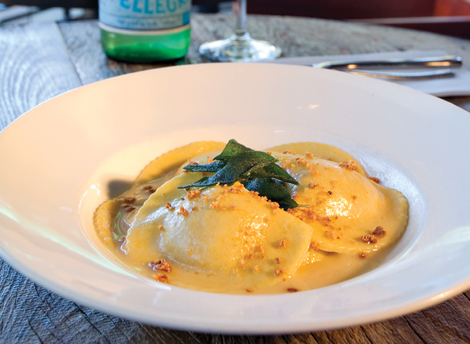 He's tackled spanish-style tapas at Sol y Sombra and malted waffles and blueberry pancakes at OverEasy. Now, Valley chef Aaron May's newest dining endeavor, Autostrada Osteria & Enotecca, offers his take on unfussy, uncomplicated Italian fare. The restaurant's strength lies in its use of simple, straightforward ingredients (no pronunciation key needed) that result in delicious dishes. And wallet-busting isn't an issue here: The priciest menu item rings in at $18.
Autostrada, which occupies a corner space at Market Street at DC Ranch near Sol y Sombra, is open for breakfast, lunch, happy hour and dinner. The atmosphere of the osteria (a casual neighborhood Italian eatery) and enotecca (an Italian place where people can sample wine) is as welcoming as the fare. Whites, warm woods and hints of red fill the smallish dining room; there's a large, sleek patio as well. From the contemporary plates and cups to the giant "A" painted on the front door, Autostrada boasts a clean-lined, industrial aesthetic that lends its space to a casual date or drinks with co-workers during happy hour. One of our favorite design elements is the rearview mirrors that plaster the entryway ceiling. "Autostrada" is Italian for motorways or freeways, after all.
Starting with the most important meal of the day, the impressive breakfast menu spotlights savory and sweet dishes. The glazed brioche with cinnamon-mascarpone and the toasted baguette with wilted arugula, egg and tomato promise to wake up your taste buds. For lunch, Autostrada serves simple, flavorful paninis.
The lengthy antipasti menu (which is available all day) features several salads, mussels and a decadent-sounding cauliflower soup with black truffle and lemon cream. We opted for the tangy pairing of baby arugula, orange segments, gorgonzola and hazelnuts. The crunchy hazelnuts were a nice foil to the creamy—but slightly too abundant—dressing, while the crumbly cheese and sweet orange slices also made for a happy marriage.
After appetizers, diners are expected to order sharable dishes from the primi and secondi menus. The primi listings consist of pasta plates, like the divine butternut squash ravioli with sage, brown butter sauce and sweet amaretti crumbles. The house-made pasta was perfectly firm, filled with the velvety squash. And the cookie bits were a welcome crunchy touch. During our next stop at Autostrada, the fettuccine with scallops, wild mushrooms, white wine and mascarpone is definitely in order. The latter menu has five hearty meat and seafood offerings, with our pick being the New York steak with a wonderfully creamy potato and sunchoke (which is a member of the sunflower family and has a nutty flavor) puree.
The plentiful side item choices are also noteworthy. We were very pleased with the bowl of baby red and gold beets crowned with sheep's milk ricotta, though we're pretty sure we couldn't go wrong with either the white asparagus with walnut sauce, currants and pecorino or the salad of fingerling potatoes, kale, pancetta, shallots and olive oil.
Dessert selections at Autostrada change regularly, and we snatched up the Nutella-filled crepe during our visit. Though the crepe itself seemed a bit undercooked, the rich hazelnut-chocolate spread was balanced with refreshing orange sauce and strawberries. The crepe dessert is just another example of why this neighborhood spot works: it's casual, comforting and perfect to share among friends.
TAKE NOTE:
Autostrada Osteria & Enotecca
20825 N. Pima Rd., Scottsdale.
480.513.2886, www.eatatautostrada.com.
Chef: Aaron May
Hours: Monday through Thursday, 4 to 9 p.m.;
Friday, 4 to 10 p.m.; Saturday, 9 a.m. to 10 p.m.;
Sunday, 9 a.m. to 9 p.m. (Summer hours)