In the past few months, the Phoenix dining scene has been on the rise, in part thanks to the casual and contemporary District American Kitchen & Wine Bar.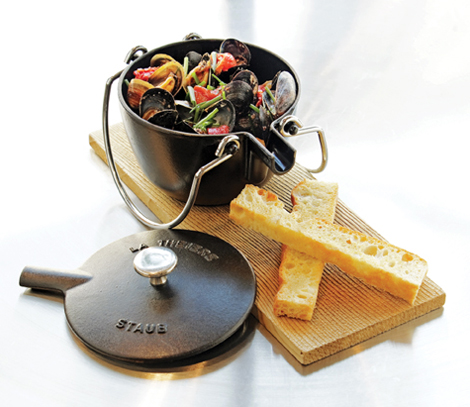 DISTRICT AMERICAN KITCHEN & WINE BAR
, located at Sheraton Downtown Phoenix, is one of the city's newest culinary additions, making First Fridays and pre-baseball game dinners something to get even more excited about. As its name implies, District specializes, for the most part, in jazzed-up American classics (think fried chicken and root beer floats) by Executive Chef Nathan Crouser, former sous chef at The Phoenician's Il Terrazzo. Even the wine and beer selection, which are helpfully paired alongside each menu item, is from the United States.
The restaurant's design reflects the hip, casual fare with its sleek bar, oversized planters and earthy palette. Exhibited on the walls are rotating works from the Paulina Miller Gallery—the longest-operating gallery in Downtown Phoenix. Other notable mentions include the wine cellar, framed by Egyptian rock; the floor-to-ceiling windows that give diners a prime view of the bustling street; and the live music (which was a talented guitarist who belted mellow cover songs during our visit) that can be heard throughout the bar, lounge and restaurant every Thursday through Sunday night.
Surprisingly, our favorite District dish can be found on the appetizer menu: the steamed mussels in habeñero-chive broth with oven-roasted tomatoes. The plump and plentiful mussels arrived at the table in a large pot and had a spicy bite. We sopped up the zesty sauce with crusty bread that accompanied the mussels. The plate of baked Marin County camembert, winter squash puree and pomegranate was also a tasty starter selection, though this sweet dish may be better suited as an after-dinner treat.
As for an entrée, we opted for one of District's newer offerings, the lobster pierogi. The dumplings were soft and scrumptious in the middle and deliciously browned around the edges. However, the maple-and-sour cream sauce that the dumplings were immersed in became too sweet after the second or third pierogi. Next time, we'd order the sauce on the side. The hearty bacon-wrapped New York strip steak, sided with spiced sweet potato fries, was District's take on a meat-and-potato dish, with the fries being the scene stealer. The delicious spiced spuds are available as an à la carte side, as well. The entrée lineup is rounded out with other culinary classics like Southern fried chicken with buttermilk biscuits; Alaskan cod fish and chips; and vegetarian stroganoff.
The dessert menu also relies on old-fashioned favorites, like chocolate cake, whoopie pie and apple pie (plus, complimentary cotton candy). The chocolate cake was rich, moist, decadent and a perfect companion to a glass of milk or a scoop of vanilla ice cream—everything a chocolate cake should be. The apple pie satisfied our craving for a homey treat. And District really outdid itself with its whoopie pies—the cake flavors rotate between favorites like pumpkin, red velvet and chocolate. The nostalgic goodies sure make for a giddy closing to the District dining experience.
District American Kitchen & Wine Bar
Sheraton Downtown Phoenix,
320 N. Third St., Phoenix.
602.817.5400, www.districtrestaurant.com.
Chef: Nathan Crouser
Hours: 6:30 to 11 a.m. (breakfast); 11:30 a.m. to 2:30 p.m. (lunch); 5:30 to 10 p.m. (dinner); 10 p.m. to midnight (bar/lounge).
Nine at Noon
For lunchtime visitors, District American Kitchen & Wine Bar recently introduced Nine at Noon. Diners can choose from a menu of $5, $7 and $9 lunch specials like grilled flatbread with wild mushrooms, pesto and mascarpone or carrot-ginger soup, among other delish dishes.