It Takes Two
Contemporary American cuisine, super-cool cocktails and sleek design all come together at Cask 63, from the duo that brought Eddie V's to the Valley.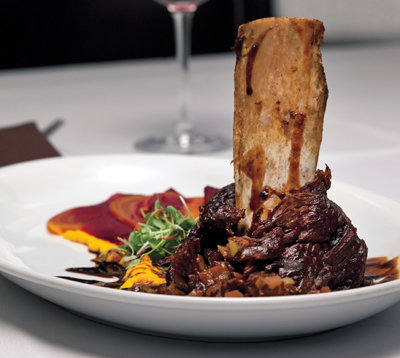 Jerry Tingle and Brian Feirstein are no strangers to the Valley dining scene. The dynamic duo is responsible for opening two of the Valley's top seafood eateries, Eddie V's Prime Seafood and Wildfish Seafood Grille. With a menu that includes delicious seafood, naturally, alongside tempting steaks, salads, soups and starters, Tingle and Feirstein opened Cask 63 American Eatery and Wine Bar at SHOPS Gainey Village in the winter.
Cask 63 is housed in Bloom's former residence and still includes much of the former restaurant's slick color palette of icy blues and grays. Baby blue button-tufted banquettes along the perimeter of the restaurant are the most coveted and cozy seats in the house, and the three-dimensional wall art catches the eye. Two of the most attention-getting elements of the restaurant greet diners as they enter: a curved wall decked with glass tiles in blues, greens and grays and a stainless steel custom wine barrel that pays homage to Cask 63's name. You see, it takes 31 and a half gallons of wine to fill a cask, which Tingle and Feirstein decided to double (to equal 63) to demonstrate their partnership and shared vision for the space.
Warm pretzel bread kicks off the meal, accompanied by a trio of tempting butters. While mustard (this time, in the form of butter) is pretzel bread's infallible sidekick, Cask 63's honey-cayenne butter offers a touch of sweetness and spice—an addictive twosome that makes you forget there is a full meal ahead of you. Among the deliciousness to come is the cornmeal-battered calamari appetizer, which is topped with a drizzle of honey-jalapeño mustard and tomato gastrique. The cornmeal provides a hearty, crisp coating that scrumptiously soaks up the spicy-sweet sauces. The warm brie, covered by a black pepper-almond crust, is another standout starter. Paired with pear-and-fig compote and piled onto a buttery crostini, each memorable bite is crunchy, creamy, fruity and nutty.
Even though the hand-pulled mozzarella salad might read like a tempting appetizer, sided with wild arugula, aged balsamic and Sweet 100 tomatoes, the aforementioned brie is best when it comes to a cheese-centric starter. Instead of silky-smooth, the salad's mozzarella is rubbery. The tomatoes, though, are fresh and juicy.
Perhaps the ultimate way to commence a meal at Cask 63 is with the restaurant's out-of-this-world Smoke and Ginger margarita. This concoction of Gran Centenario Anejo Tequila, Del Maguey Mezcal, Domaine de Canton Ginger Liqueur and, of course, a little lemon and lime is spicy, aromatic and utterly taste bud-pleasing.
Seafoodies and carnivores alike have plenty of variety to choose from on Cask 63's entree menu. Meat-loving mouths water at the sight of the Creekstone Farms Black Angus beef short ribs. The melt-in-your-mouth Madeira-braised short ribs could practically be eaten with a spoon. The dish's colorful companions are just as delicious: corn-and-carrot puree, roasted beets and candied apples and figs.
Offering a new twist on a comfort food classic, the deconstructed lobster pot pie features all the usual fixings (think lobster, carrots, peas and puff pastry) but, as the name suggests, is presented in a unique way. A generous piece of sweet Maine lobster (one and a quarter pounds, actually) is blanketed in a bowl of flavorful broth and crisp root veggies while on the side of the dish rests a tarragon puff pastry point. Apparent from his work at Eddie V's and Wildfish Seafood Grille, Feirstein does seafood well, and the lip-smacking lobster pot pie only boosts his reputation.
Dessert time calls for yet another twist on a culinary classic: s'mores. Cask 63's version of the campfire favorite spotlights homemade marshmallow, thin and crunchy graham crackers and sizable squares of chocolate brownie in lieu of a Hershey's bar. Though this trio of treats is plenty delectable, the s'mores is sided with a heaping scoop of peanut butter ice cream—ending the Cask 63 dining experience on not only a sweet, but an utterly decadent, note.
TO LEARN MORE
Cask 63 8877 N. Scottsdale Rd., Ste. 402, Scottsdale. 480.922.5666, www.cask63.com.
Chef: Brian Feirstein
Hours: Monday through Friday, 11 a.m. to 3 p.m.; Sunday through Thursday, 5 to 9 p.m.; Friday and Saturday, 5 to 10 p.m.