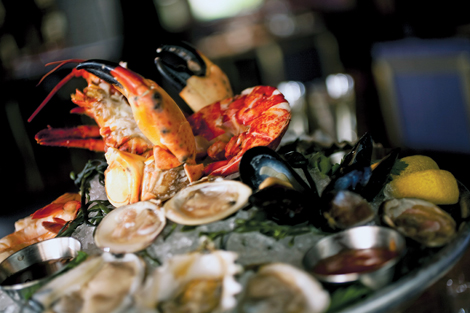 Those still mourning the loss of Mary Elaine's at The Phoenician can finally see the silver lining: The space is now home to J&G Steakhouse, renowned chef Jean-Georges Vongerichten's tempting new dining treasure.

For more than two decades, Mary Elaine's at The Phoenician had been a pillar of dining excellence in the Valley—especially for the jacket-and-tie set. Since the resort restaurant closed last April, we've been anxiously awaiting the new eatery that would fill Mary Elaine's sumptuous shoes. Jean-Georges Vongerichten's J&G Steakhouse—which we would describe as Mary Elaine's sleeker, more modern younger brother—came to the rescue when it opened in December.
Vongerichten has long been a star in the culinary universe. He is the mastermind behind some of the world's most celebrated restaurants, including New York's Jean Georges, JoJo, Vong, Mercer Kitchen, Perry St. and Spice Market; Prime Steakhouse in Las Vegas (his only other restaurant in the Southwestern United States); as well as several throughout Canada, Mexico, Asia, Europe and the Bahamas. He is also an illustrious cookbook author, having won the James Beard Foundation Award for best cookbook in 1999. All in all, the French-born chef was more than capable of making The Phoenician's top floor a thriving dining destination once again.
The stately steakhouse is quite large, and is made to seem even grander by the floor-to-ceiling windows, which allow diners to take advantage of the expansive panoramas. (Sunset at J&G is quite a romantic spectacle, especially when sipping a fruity, fizzy huckleberry Bellini.) Overall, the restaurant sports a masculine aesthetic with leather chairs, rich woods, an onyx wraparound bar and mood lighting throughout. However, the eye-catching, glimmering light fixtures that are mounted above the bar and some of the lengthier seating areas add a bit of shine. Some of the touches on the dining tables—like paper placemats and red-and-white plaid napkins—leave a pleasant, down-to-earth impression. And though taking our meal on the terrace wasn't an option during the time of our visit, it's still a nice place to cozy up by the fire pits before or after dinner.
Before digging into the main event, it is imperative not to forgo appetizers at J&G, as the starter menu scored some of the highest points during our dining experience. The ubiquitous calamari had a light-as-air, crispy coating and was sprinkled with basil salt. The accompanying lemon dip (which our server referred to as a fondue) proved to be very refreshing and a perfect partner for the fresh, far-from-greasy calamari. The sweet corn ravioli, steeped in basil butter and cherry tomatoes, would also be invited back to our table anytime.
We moved onto a steak and a seafood selection from Vongerichten's bill of fare, as top-notch meats and premium seafood are the "backbone" of the menu. The steamed, half-pound lobster was beautifully presented and delicious as is—though we couldn't resist soaking up the slightly spicy Tabasco butter. The six-peppercorn prime New York steak was wonderfully rich and seared to perfection, but it was the accompanying béarnaise and black pepper sauces that stole our hearts. (There are five additional steak sauces to choose from, including an Asian-inspired soy-miso mustard and a smoked chili glaze.) As for sides, we devoured the utterly fresh creamed spinach and decadent potato gratin with Comté cheese.
Much like Vongerichten's appetizers, the desserts at J&G are obligatory. Though the exotic fruit salad with white pepper ice cream was a bit too soupy (the ice cream alone was tops, however), the apple tart tatin with butterscotch-cinnamon ice cream was a comforting treat. But it was the cheesecake that sent us over the moon. The circular, fit-for-two cheesecake was rounded out with sour cherry sorbet and a pucker inducing cherry compote—a heavenly triple-threat of tastiness.

J&G Steakhouse
The Phoenician,
6000 E. Camelback Rd., Scottsdale.
480.214.8000,
www.jgsteakhousescottsdale.com.
Chef de Cuisine: Jacques Qualin.
Hours: Sunday through Wednesday, 5 to 10 p.m.;
Thursday through Saturday, 5 to 11 p.m.
Bar opens daily at 4 p.m.