Yes to Noh
Scottsdale's Noh offers diners a unique and undeniably hip way to experience some of the best sushi and seafood in the Valley.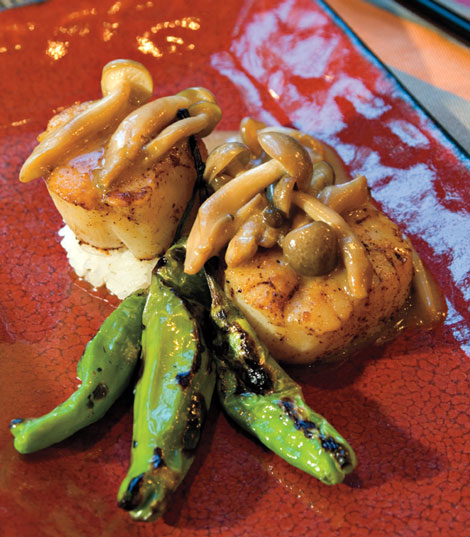 Noh
Hyatt Regency Scottsdale Resort and Spa at Gainey Ranch, 7500 E. Doubletree Ranch Rd., Scottsdale. 480.444.1234, scottsdale.hyatt.com.
Chefs: Marc Cain and Karen Lucero
Hours: Tuesday through Saturday; seatings are 6 p.m. and 8 p.m.
Though unique dining experiences aren't hard to come by in the Valley (think POSH's improvisational cuisine), there is plenty of room for even more ways to experience top-notch cuisine in a distinctive setting. Recently, Hyatt Regency Scottsdale Resort and Spa at Gainey Ranch welcomed Noh, a theater-style restaurant that serves omakase Japanese cuisine. (Now for the lesson: "noh" translates to "talent" in Japanese, while "omakase" means "I'll leave it to you.")
Aside from its uniqueness, Noh also has a feeling of exclusivity, as it is very hip with its sleek design and only seats six diners at a time. And, somehow, the restaurant also manages to be very comfortable, casual and welcoming—thanks to the amiable chefs who interact with diners as they work in the theater-style setting. You see, the diners are facing the chefs throughout the meal. The seating at Noh consists of a long and low bar, accompanied by six chairs. (Diners' backs face part of the lower Hyatt lobby, where they can enjoy tunes from the hotel's new lineup of live music acts. See sidebar.) Fresh seafood and other ingredients are displayed in front of the bar, and, on the other side of the display, is the small kitchen where a pair of chefs whip up the personally tailored feast.
Because Noh features omakase-style cuisine—meaning that each meal is customized for the diner and dependent on which ingredients are most fresh and flavorful at the time—no two meals are the same. However, after enjoying Noh's six-course tasting menu, it is apparent that the chefs aim to provide diners with a one-of-a-kind dining experience, complete with well-rounded flavors, fresh ingredients and elegant presentations.
The amuse course is a bite-size salmon tartare, surrounded with lightly pickled cucumbers. The dish is complemented by a refreshing citron green tea, which has been specially made for Noh and beautifully harmonizes with the delicate amuse. The mild tartare is a prime plate to prep the taste buds for the more flavor-packed dishes to come.
Tuna is the star seafood in the second course, paired with avocado. Thin slices of tuna and avocado rest on a flavorful layer of sriracha aioli, which adds a dash of spice and character. To complement the silky fish and avocado, the plate is sprinkled with crunchy garlic chips—again, contributing just a bit of tingle for the taste buds.
The only non-seafood (or dessert) course comes next, in the form of a chicken dumpling. Though the dumpling is the highlight of this soup course, not a drop of the light, mild broth or a single shitake mushroom that pairs with it are spared. Though the goal of the multicourse tasting menu is to keep things light, allowing diners to experience a variety of flavors, the soup would have been even better with the addition of one more dumpling.
Due to its finger-licking-good butter sauce, the scallop dish is the table favorite. The dish spotlights two large scallops, each with a perfectly crisped exterior, on a bed of rice and a helping of mild shishito peppers. It is crowned with a rich, slightly salty butter sauce that evokes the warmness that comfort food does but is decidedly more decadent than a handful of popcorn or mac and cheese.
After a savory seafood course, the miso-glazed barramundi (a flaky white fish) provides some welcomed, yet mild, sweetness. The colorful barramundi dish is also quite a feast for the eyes, thanks to the vibrant (and delicious) mashed purple sweet potatoes and the pale green fava bean puree.
Noh's final act is a heaven-sent sticky toffee pudding with white misobutterscotch cream that is cooled down with two petite scoops of house-made green tea ice cream. Though Noh isn't a theater of the performing-arts variety, after six glorious courses of incredible Japanese cuisine, the chefs deserve to take a bow.