With its storied history as the signature restaurant of the legendary Arizona Biltmore, Wright's at The Biltmore is a Phoenix classic. So what would be more natural than bringing back the classic dishes that were once the most popular options on the menus of top restaurants like Wright's – but updated with the culinary perspective and trends of today.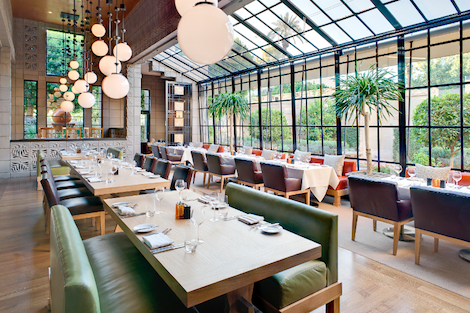 "The new Wright's at The Biltmore brings a new taste experience to timeless cuisine," said General Manager Andrew Stegen. "We've taken original recipes of classic favorites and refreshed them with creative combinations of trendy fresh ingredients and the expert and stylish preparation techniques of today."
The menu is peppered with re-imagined classic favorites. The Beef Tar Tar is artistically prepared with Kobe beef, quail egg yolk, crisp capers and garlic crostini, while the Lobster Bisque is encased in a beautiful puff pastry crust. Snails fattened only on sweet basil and a sweet-pea risotto put a new twist on Escargot Cassoulet. The Veal Loin "Oscar" is aromatically repositioned with lemon-scented asparagus, tarragon butter and king crab cylinders.
Serving classic dishes would not be the same without also bringing back the urbane service practices that instilled classic dining with savoir-faire and style. Salads are tossed on a cart wheeled up to the table. The tarragon butter is poured over the Beef Wellington and Veal Loin "Oscar" at the table. The Escargot Cassoulet is served covered so the cover can be ceremoniously removed. Rather than a breadbasket on the table, the server passes a variety of bread choices such as Compagna Bread and Roasted Garlic & Herb Focaccia, served with a cube of sweet butter and fleur de sel. This classic service blueprint completes the classic dining experience.
The new Wright's uncorks a novel way of organizing a menu. It has the typical categories of appetizers, salads and entrees, but is also organized by the wine type recommended with each category. For example, appetizers are paired with sparkling wines, salads with white wines, and veal with fruit-forward reds.
Most menu items are available in small- or large-plate portions. For those who want to meet others and socialize there's a communal table, and for those who don't private dining areas are created with metal and glass screens.
Revamping Wright's posed the design challenge of creating a space that was innovative, stylish and fresh yet seamlessly integrated with the classic Wrightian style of Biltmore block and gold-leaf ceilings. The transformation was successfully achieved with an upbeat mix of elements – including new rich wood flooring, custom designed pendant light fixtures, soft leather benches, a wine wall and a focal wall of framed Frank Lloyd Wright sketches – that draws diners into the warm and sophisticated ambiance.
Open for dinner Tuesday through Saturday from 5:00 p.m. to 10:00 p.m., and for Sunday Brunch from 10:00 a.m. to 2:00 p.m.  Reservations are recommended: 602-381-7632.