Aaron May has long been a fixture in the Valley dining scene. With Vitamin T, located at Phoenix's CityScape, May is heading Downtown with authentic south-of-the-border eats.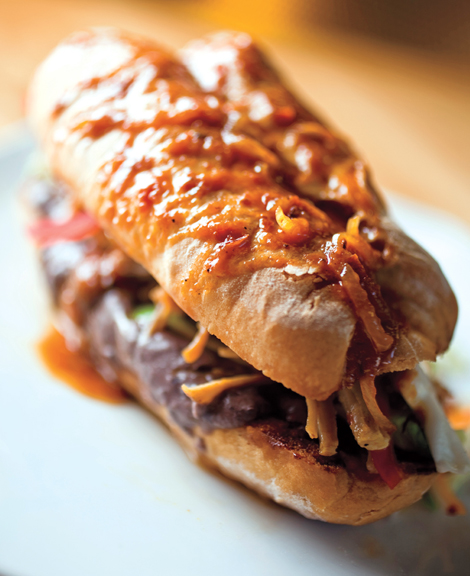 Though the Valley isn't hard pressed for authentic, one-of-a-kind Mexican eateries, any Phoenician with a taste for tacos and tequila would gladly welcome yet another to the restaurant roster. Last year, at Downtown Phoenix's CityScape, Aaron May opened Vitamin T, a small eatery where businesspeople can grab a quick bite during their lunchtime or those heading to a sports game or concert can enjoy some pre-event happy hour specials. Since then, business has been booming and, as of press time, an expansion (which includes the addition of breakfast and dessert items, as well as the extension of the small dining space) is planned for the fall, allowing Valley dwellers a little more room and time to enjoy their daily dose of Vitamin T.
Even those in a hustle during their lunch breaks cannot afford to miss a starter at Vitamin T. While the grilled corn might be stuck in your teeth for days, it also makes for a divine appetizer. Vitamin T's version is topped with queso fresco, paprika and mayo (which most diners may not want to know, but the condiment adds so much creaminess and flavor).
Arguably the most important "T" is tacos, and Vitamin T does them right at a wallet-friendly price. (Most tacos are $2.50 each or three for $7.) The barbacoa taco is a favorite among Vitamin T patrons, as the beef brisket has been rubbed with coffee and chili de arbol and braised, creating a smoky, lip-smacking flavor. Though roasted potatoes and poblano peppers take the place of meat in the delicious vegetarian rajas con papas taco, it certainly isn't missed. To add crispiness and a little color, each taco is topped with sliced cabbage, radish, carrot, green onion, cilantro and lime juice. Plus, Vitamin T offers up a tasty—and packed—condiment bar with a variety of salsas, roasted green onion, pickled veggies and other flavor-enhancers.
Vitamin T's caramelos, or quesadillas with meat, are a welcome change to the Taco Bell-variety. These caramelos are palm-size, perfect as a snack or alongside a starter salad. The pibil caramelo has a crisped exterior while delectable pork and gooey cheese reside inside. Pork fans will also adore the ahogado, a torta of slow-roasted pork, pickled red onion, avocado and chili de arbol which sits in and soaks up a wonderfully flavorful broth. Though reminiscent of a French dip, this sandwich is as unique as it is delectable.
Another departure from the noshing norm are Vitamin T's tamales which are served open-face in a banana leaf. However, tamale traditionalists will not be disappointed as the roasted veggie variety (pibil, barbacoa and pulled chicken are also available) is as scrumptious as any old-school tamale.
While a Mexican restaurant might not seem like an obvious go-to when you have a hankering for hot dogs, consider Vitamin T's chorizo dog. This mighty tasty dog features chorizo, queso fresco, onions and a thin spread of black beans on a sweet, could-eat-it-all-by-itself bun. The snap of the chorizo, the warm, fluffy, nearly sweet bun—this dog has a lot going for it.
It's hard to imagine a dog without something icy to wash it down with, which is where a margarita comes in. Though there is nothing particularly notable about Vitamin T's margaritas (they are whirled in a machine), the restaurant is able to jazz them up with several delicious flavors. The ginger-peach concoction sure hits the spot on a warm day—machine-made or not.
TO LEARN MORE:
Vitamin T 1 E. Washington St., Phoenix.
602.688.8168, www.eatmoretacos.com.
Chef: Aaron May
Hours: Monday through Saturday, 11 a.m. to 8 p.m.; Sunday, 11 a.m. to 6 p.m.