Page 1 of 5
Out of the 365 days in a year, fathers receive only 24 hours worth of special recognition. That seems a bit askew considering the task of being a dad isn't a walk in the park; your dad let you blast Justin Bieber in his car, taught you how to play baseball and endured several makeovers during your beautician phase. This Father's Day treat you dad to one of Valley's local high-end steakhouses. After all, there is no better way to say "thanks!" to dad than with a meal fit for a king.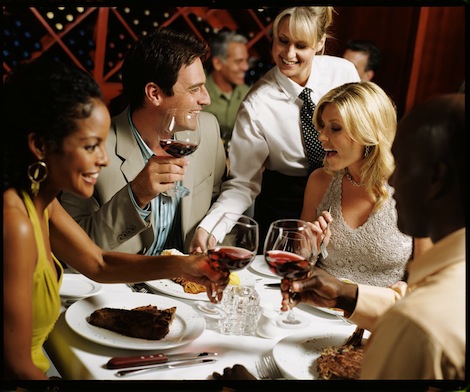 Fleming's Prime Steakhouse & Wine Bar
Indulge Dad to a brunch or dinner this year at Flemings Prime Steakhouse & Wine Bar, where he will be rewarded with a $25 dining card to enjoy on a future visit. Fleming's is idyllic for special occasions, especially on Father's Day. With nationally renowned USDA Prime beef, grilled fish and poultry that is complimented by an award-winning wine list, Fleming's will fix every Dad's craving. On Sunday, Jun 19th, Fleming's will open early at 11:30 a.m. with an exceptional brunch menu, served until 3:00 p.m. Say cheers to Dad with Fleming's Specialty Cocktail for Father's Day, Button Down—Jack Daniel's Whiskey, freshly squeezed lemon juice, maple syrup and a dash of bitters. Don't miss out on this once-a-year event; book your reservation today. http://www.flemingssteakhouse.com/.