Sometimes, you want a slice of sophistication with your pizza. This is where Cave Creek's new Amaro Pizzeria and Vino Lounge comes in.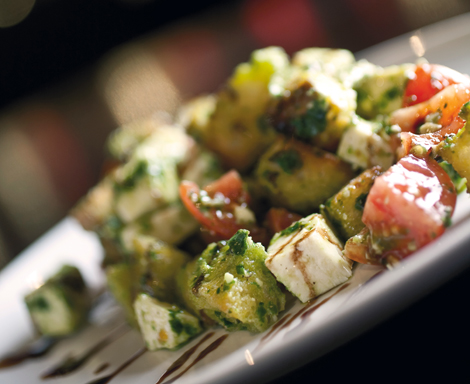 Pizza takes the prize for being one of the most casual eats possible: You don't need a fork and knife to dig into it. It can be enjoyed hot or cold. And a pizza meal isn't quite complete without Pepsi on ice or a cold beer. However, sometimes a pizza craving comes along and you're in the mood for something a little more festive than a cardboard box and grease-coated napkins. Cave Creek's new high-end pizza joint, Amaro Pizzeria and Vino Lounge, offers such an experience.
Opened in the fall near Tatum and Dynamite Boulevards, Amaro dishes up several specialty pizzas (with red and white sauce) as well as classic Italian eats, from pastas to chicken parmesan. Before digging into the appetizer selection, guests are given a big plate of Italian bread sided with top-notch olive oil and shredded parmesan. Though tasty, the bread would have been even more enjoyable if served warm. Stomach space is best saved for the amazing pane caprese appetizer, anyway. The impressive starter features a bed of toasted foccacia, pulled mozzarella, garlic-marinated tomatoes, basil pesto and a balsamic reduction drizzle. The crunchy foccacia cubes, creamy bits of mozzarella and juicy bursts of tomato is a welcome texture combination. The peppery pesto, and sweet-tasting tomatoes and balsamic beautifully finish off the plate. Be sure to save some of that pre-dinner bread to swipe the pane caprese plate clean of its balsamic reduction.
Amaro stays true to its pizzeria designation with its selection of 'za that ranges from the traditional margherita to the more unique Dolce Arrabbiata with fresh mozzarella, Taleggio-caramelized sweet onions, sweet and spicy Italian sausage, Calabrian chilies, extra virgin olive oil and basil. The table favorite is the tomato-spinach pizza. The six-slice pizza (plenty for a table of two to share) is topped with fresh mozzarella, parmesan, oven-dried tomatoes, roasted garlic, baby spinach, extra virgin olive oil and basil. The plump tomatoes and garlic bulbs add a bit of sweetness, and the slices aren't stingy with the spinach and basil leaves. (There are several a lá carte toppings, including sopressata and roasted red peppers, to choose from, as well.)
From pizza to pasta, Amaro's conventional lasagna is certainly a sight to behold. The massive slice features bolognese sauce, fresh semolina pasta, ricotta, mozzarella, parmesan and fresh herbs. The meaty bolognese is the highlight of the lasagna—very flavorful and comforting. The only downside to this dish is that it is served solo, with no veggies or other sides to round it out. Though the lasagna piece is certainly large enough to fill up any belly, a side salad or a helping of seasonal veggies would make the meal more complete.
For a sweet finale, trust the classic: The New York-style cheesecake, with a slightly burnt top, is forkfuls upon forkfuls of dessert decadence. The creamy cheesecake is crowned with an out-of-this-world balsamic-strawberry reduction spotlighting big berry chunks and an addicting savory-sweet finish.
Delicious as it may be, it isn't the fare that transforms the pizzeria into such a chic spot; it's the hip atmosphere and cool design touches. Guests are greeted in the lobby with gorgeous slate-gray walls and interesting artwork. Blond wood and industrial-inspired cement flooring fill the dining areas. Dark maroon accent walls pop against the gray. The over-the-top chandelier that hangs above the bar area is stunning and intricate—adding elegance and femininity to a contemporary, minimalist dining area. The space is also warmed up with a simple centerpiece candle that decks each slick black table (there are tables, booths and high-tops).
Even the lounge, where guests can gather to watch the big game or simply sit back with a glass of wine, offers a side of sophistication thanks to its masculine leather chairs and couches. Whether guests are seeking a stylish date spot or a place to round up girlfriends or guy pals for a night out, Amaro offers accessible fare—like A-plus pizza—with a pinch of panache.
To Learn More:
Amaro Pizzeria and Vino Lounge
28234 N. Tatum Blvd., Cave Creek.
480.502.1920, www.amaroaz.com.
Chef: Jon Spahr
Hours: 4 to 10 p.m. daily.