InterContinental Montelucia Resort & Spa made its debut in Paradise Valley in the fall, along with its signature dining destination, Prado. Under the direction of chef Claudio Urciuoli, this Spanish-inspired eatery has all the makings of a romantic resort restaurant: a dimly lit dining room, cozy-up booths and, our favorite, a pasta dish for two.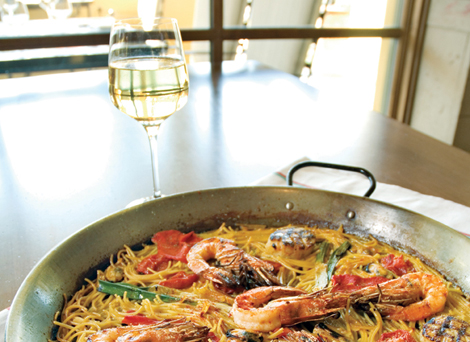 Way back when, chef Claudio Urciuoli manned the kitchen at Taggia at FireSky Resort, where many fell in love with his wonderful dishes, especially his divine pasta. Now, after a stint at Different Pointe of View at Pointe Hilton Tapatio Cliffs Resort, chef Urciuoli is behind the fabulous fare we sampled at Prado, the signature restaurant at Paradise Valley's new InterContinental Montelucia Resort & Spa. The resort, which resides at the foot of Camelback Mountain, is European inspired, with gorgeous courtyards, tile-lined pools and a charming, villagelike feel.
Much like Montelucia, Prado exudes a warm and romantic appeal, with plenty of wood, earth tones and lovely artwork filling the dining space. As far as the fare, Prado's menu is touted as "wood-fired grilling with a Spanish accent" and features a handful of starters, à la carte side dishes, wood-fired meats and seafood, rice dishes and fideos (a type of Spanish pasta) and nightly specials, including suckling pig on Monday nights.
We started our Prado repast with a tapas selection from Mbar (see sidebar). We were enamored with the jamón de bellota, meaning "ham
of acorn." This rare, pricey cured ham is produced by acorn-fed pigs and was recently approved to be shipped to the United States from Spain for consumption. Each paper-thin, salty sliver of meat melted in our mouths. We followed it up with a double dose of refreshing gazpacho and an out-of-this-world caprese. Unlike most caprese salads, Prado's spotlighted insanely creamy burrata cheese, instead of mozzarella, and sweet, oven-roasted tomatoes.
Knowing Urciuoli's penchant for top-notch pasta, we ordered up the pasta al ceppo for the main event, which featured delectable pasta reminiscent of a hybrid of rotini and penne noodles. While the dish of pasta noodles, manchego cheese and various types of wild mushrooms was hearty and quite good (it was a tad too salty to be outstandingly good), it was the fideua that stole the scrumptious show. This fit-for-a-king dish comprises spaghettilike pasta alongside day boat scallops and monstrous langoustines and had a slight spiciness. Plus, the presentation by the servers and the sheer size of the dish (it is designed for two to share) made it a memorable meal.
When it comes to dessert, Prado offers some unique menu items, including one that caters to folks who don't necessarily always do the sweet stuff. The strawberry gazpacho Andalusia, a blend of berries with vanilla bean sabayon and key lime granita, had an almost savory quality to it. Plus, it was incredibly refreshing— so much so it could be a palate-cleanser between courses. For something a bit more decadent, the churros paired with bittersweet chocolate fondue is a fine choice. The cinnamon-topped churros are superbly crisped, softened by the rich fondue.
Another wonderful way to end the evening at Prado is with a yummy nightcap. The InterContinental tipple was fruity and refreshing—not to mention riddled with antioxidants, courtesy of mangosteen and pomegranate. This delish sip even includes Joya Emerald Elixir, a healthful addition that is featured at Montelucia's Joya Spa and is supposed to bring drinkers abundant love. For something truly different, the Amante Picante is a blend of 4 Copas Blanco organic tequila, cucumber, cilantro, agave nectar and lime. Thanks to its from-the-garden ingredients, the cocktail has a subtle peppery finish. And much like Prado, and the resort itself, the Amante Picante simply oozes romance—the menu states that the cocktail is a culinary aphrodisiac, after all.