From New York City to Los Angeles, food lovers are quite familiar with the name Laurent Tourondel, thanks to his beloved BLT brand. Now, Scottsdale's Camelback Inn is home to the celebrated chef's latest dining destination, BLT Steak.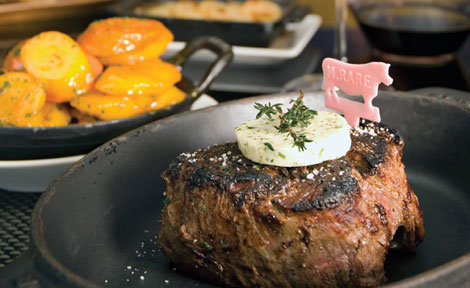 Once upon a time, in the food world, B.L.T. stood for "bacon, lettuce and tomato." Not anymore. Over the past few years, chef Laurent Tourondel has made this acronym all his own with the opening of New York's BLT Steak in 2004: Bistro Laurent Tourondel. Since then, Tourondel has opened six other BLT Steak outposts across the nation, including, most recently, in Scottsdale. His other meal-making masterpieces include BLT Fish, BLT Burger, BLT Prime, BLT Market and Fish Shack.
Part of a $50 million renovation of Camelback Inn, A JW Marriott Resort & Spa, BLT Steak opened in October. The chic dining area is decked out in dark woods and dramatic lighting, and while there is nary a white tablecloth in sight, the room very much exudes an air of fine, though comfortable, dining. The majority of the space is encased in floor-to-ceiling windows, and many of the tables are arranged along the perimeter of the area to take in Tourondel's favorite feature: the desert panoramas. (These views were even more delish when taken in with a Last Oasis cocktail in hand, which is a mix of yellow watermelon, basil and Partida Blanco tequila.)
To start out our repast, we opted for a few items (the scallops and squash soup) from the specials menu, where items can change daily or monthly depending on availability, seasonality and popularity. The creamy squash soup was divine, with sliced pears and whipped honey mascarpone. Though it was a bit on the sweet side for an appetizer, that didn't stop us from completely clearing our bowls. The baby scallops were even better, and we found ourselves plunking one right after another in our mouths. Then, there are Tourondel's signature Gruyère-encrusted popovers. These mushroom-shaped poufs (the tops make for perfect pockets to be doused in butter and sea salt) put most restaurants' pre-dinner freebies to shame. Inside, each popover was gooey and warm, and crusty and cheesy on the outside.
As you may have guessed, meaty offerings take up a majority of the entrée menu, including melt-in-your-mouth braised short ribs, a spice-rubbed cowboy rib-eye and an utterly juicy and tender filet. There are also four Kobe cuts (the pricey A5 strip can be ordered for $26 per ounce). While there are nearly 10 types of sauces to choose from to top your steak, we sopped up every last drop of the red wine variety. Other options include the BLT Steak Sauce or BLT BBQ Sauce, which can even be purchased by the bottle. Sides are served family-style, and we couldn't get enough of the flavorful veggies, especially the sweet braised carrots and grilled asparagus. And we didn't want to share the superfluffy mashed potatoes or thickly sliced potato gratin.
For dessert, we sampled the blueberry-lemon meringue pie, carrot cake and crêpe soufflé with passion fruit sauce. Though the passion fruit sauce was incredibly flavorful and tangy, the crescent-shaped crêpe was a bit large and doughy. However, both the pie and carrot cake were delectable. (Plus, the caramelized cheesecake is definitely worth a taste?our server's assistant raved about it after we placed our order, but it's on our radar for next time. Speaking of which, the service at BLT Steak was some of the best we've received in the Valley. The servers were incredibly friendly, attentive and knowledgeable.)
Upon leaving the restaurant, it is impossible not to want to pull up a chair around the cozy fire pit on the outdoor patio—so go ahead, order up an après-dinner glass of wine or a cappuccino and savor the twinkling sky and desert views that Tourondel himself fell in love with upon opening his new Scottsdale steakhouse.