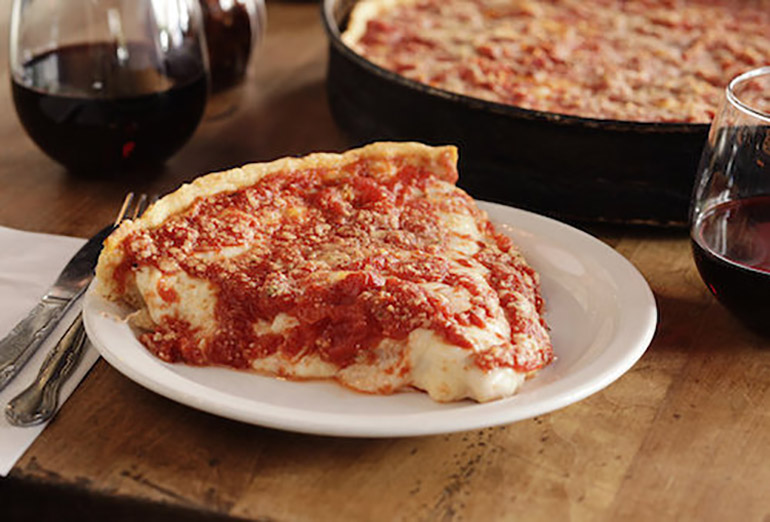 Gilbert residents have a new legendary and delicious deep dish pizza place as Lou Malnati's Pizzeriaopened their sixth location and newest home in the Valley this week. The 1,800-square-foot space offers carryout and delivery service only, located at 3115 S Val Vista Drive at the Northeast corner of East Pecos Road and South Val Vista Drive in Gilbert.
Local fans can satisfy their craving for Lou Malnati's award-winning deep dish pizza by choosing curbside pick-up, no-contact delivery and drop off catering services. While the menu is highlighted by the legendary deep dish pizza, it also offers thin crust along with delicious appetizers, salads, pastas and desserts. The store hours will be Monday – Thursday from 4 p.m. – 10 p.m., Friday – Saturday from 11 a.m. – 11 p.m. and Sunday from 11 a.m. – 10 p.m. The pizzeria also has locations in Arcadia, Glendale, Phoenix, Scottsdale and Mesa, which recently opened in August 2021.
Malnati's will hire approximately 50 local employees and is seeking delivery drivers, kitchen crew and phone staff. The company is now hiring and currently holding interviews at the restaurant. Interested applicants are asked to provide proof of authorization to work in the United States and a resume, if applicable. Also, qualified candidates may apply online at www.loumalnatis.com/careers or by texting "Lous" to 242424.
Lou Malnati's is a family-owned company that is rapidly growing and expanding. The pizzeria is looking for team players with a strong work ethic and provides paid training, free employee meals, benefits and a fun work environment. The brand was recognized as one of Chicago Tribune's Top 100 Places to Work for the eleventh year in a row and was voted as a 2021 National Top Workplace.
The Malnati family has become famous for their original deep dish pizza recipe, top-notch quality and hospitality since opening in 1971. The company is still owned and operated by second generation family members as Lou Malnati's son, Marc Malnati, proudly carries on the family tradition and honors their legacy. Celebrating its 50th anniversary in business this year, Lou Malnati's currently operates over 60 locations in the Chicagoland area, Phoenix, Indianapolis and Milwaukee.
The company looks forward to opening a new location in the greater Phoenix metro area and expanding its footprint. The iconic pizzeria wants to provide a taste of Chicago to the Windy City transplants and local residents in the Southeast Valley. "Since our first location opened in Arizona, we've been welcomed with open arms and are so grateful to our loyal fan base," said Marc Malnati. "Our team is excited to expand in the Valley and make a home in the city of Gilbert. We're thrilled to bring our authentic Chicago-style deep dish pizza to the Gilbert neighborhood and become ingrained in the vibrant and thriving community," Marc Malnati said. "We're committed to providing jobs at our restaurants while supporting the local communities we serve. We're thankful for the overwhelmingly positive response of customers who love our food, family and hospitality," Malnati added.
In addition to serving up their famous deep dish, the company wants to become immersed in the local communities they serve. The pizzeria is well known for giving back and supports local charities and schools through fundraisers and volunteer involvement. Their tradition of generosity will continue through youth incentive programs, generous donation programs, and working with local organizations in Gilbert and the surrounding communities.