Page 2 of 3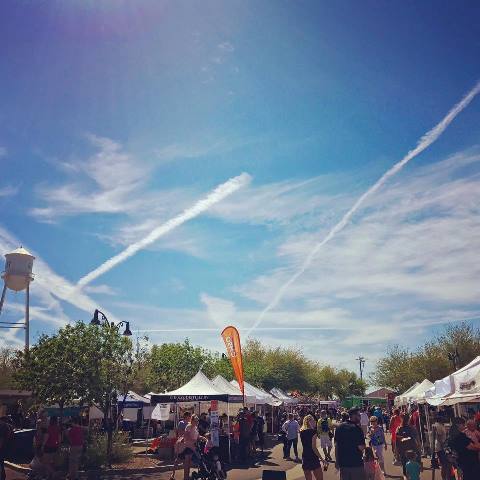 Gilbert Farmers' Market (pictured)
When: Saturdays, October through March, 8 a.m.-12 p.m.; April through September, 7-11 a.m.
Located just west of the iconic Gilbert water tower, Gilbert Farmers' Market hosts more than 60 vendors during the summer season and close to 100 vendors in the fall/spring months. Shop a wide variety of locally grown produce from nearby farms and goods from local producers. And be sure to save room for some food truck fare and a cold drink from Mama's Cold Brew, which is often at the market.
The Camelback Market at Vincent's
When: Saturdays, late October through early May 12, 9 a.m.-1 p.m.
Wander through stalls filled with a mix of fresh local produce and exotic imported fruits and vegetables. Warm, crusty breads, buttery croissants, homemade jams, mustards and imported cheeses, among other goodies await. If you can't wait to get your hands on your groceries, guests can purchase wines by the glass, enjoy omelets and crêpes made to order as well as Vincent's grilled panini sandwiches, on-site.
Old Town Scottsdale Farmers' Market
When: Saturdays, closed during the summer months, 7-11 a.m.
This lively market (which is pet- and family-friendly) features local growers and specialty food producers offering up a wide variety of organic and pesticide-free produce. Freshly baked artisan breads, Amish friendship breads, jams, piccadillies and tamales are just some of the great local foods you'll find here.