Page 1 of 3
On Nov. 25, the bird is the word. This Thanksgiving Day, follow expert cooking tips from the Valley's culinary masterminds and try out a from-scratch stuffing recipe to dazzle your guests during the holiday feast.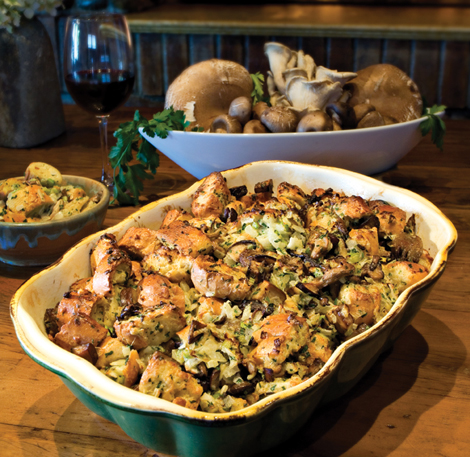 RECIPE
Wild Mushroom Bread Stuffing
Just like every Goose needs his Maverick, every turkey needs its stuffing. To break from tradition (or that tired boxed version) this Thanksgiving, try this mushroom-centric side from Roaring Fork's Executive Chef Bryan Hulihee.

1 Loaf of focaccia bread
1 C Shitake mushrooms
1 C Oyster mushrooms
1 C Portobello mushrooms
1 Stick of unsalted butter
3 White onions
4 Large ribs of celery
5 Garlic cloves
4 Large eggs, lightly beaten
¾ C Heavy cream
½ C Turkey giblet stock
1 C Parmigiano Reggiano, grated
½ C Parsley, chopped

Preheat oven to 350 degrees with rack in the middle. Generously butter baking dish. Put bread in two shallow baking pans and bake, switching position of pans halfway through baking, until just dried out (about 10 minutes). Heat one tablespoon of oil in a 12-inch heavy skillet over medium heat until it simmers, then cook half of the mushrooms, stirring and breaking them into pieces until golden brown (about three minutes). Transfer with a slotted spoon to a large bowl, and brown remaining mushrooms in remaining tablespoon of oil. Transfer to a bowl. Pour off fat from skillet and wipe clean. Heat butter over medium heat until foam subsides, then cook onions, celery, garlic and a half teaspoon each of salt and pepper, stirring occasionally until golden brown. Add vegetables and bread to mushrooms. Whisk together eggs, half cup of cream, turkey stock, cheese and parsley, then stir into stuffing and cool completely (about 30 minutes). Reserve five cups
of stuffing to stuff turkey and spoon remainder into a baking dish. Then, drizzle with remaining one-fourth cup of cream. Cover stuffing and chill.
Last Updated ( Thursday, 28 October 2010 11:16 )