Photo courtesy of Monique Lhuillier
On a perfect fall day—at the Fairmont Scottsdale Princess—AFM got to not only attend the 34th Annual Brophy College Preparatory Fashion Show, but we got to sit down and have a chat with the beloved and famed designer, Monique Lhuillier. After graduating from the Fashion Institute of Design and Merchandising, Lhuillier felt uninspired by the bridal industry when picking out a dress for her special day and got inspired to create one on her own, which in turn led to the opening of her shop in Los Angeles in 2001 and a very successful 21-year fashion business.
Showcasing her Spring 2018 collection was an awe moment, and we were so lucky to be graced with a Paris couture runway show right here on a local Valley stage. The collection—being an ode to Paris—was Lhuillier's way of showing her love for the city itself. When watching her show, one starts to romanticize about the city of love and immediately gets transported to the 1920's and the fashion of the time. Her collection is full of dresses and capes adorned with ostrich feathers and 1920's-inspired embellishing, gorgeous floral jacquard dresses and pants and high-neck smocked chiffon gowns, all in dreamy and delicate pastels. This collection was a reminder of the feminine, classy and classic touch one can be reminded when thinking of the elegant designs of Monique Lhuillier.
Photo courtesy of Kay & Co
AFM: How did you evolve from designing solely wedding dresses?
Lhuillier: I followed the natural progression. For the first four years, I was doing whites and ivories and designing for the most important day in their lives, but then [I thought], 'Why stop at their wedding? I would love to dress them for all the other important events in their lives.' From that, we kind of built a full lifestyle brand since it encompasses not only the fashion component but now we're also in home. It has been a wonderful 21-year journey, and we're still growing.
AFM: When you opened your shop in Los Angeles in 2001, would you say you were pretty successful from the start?
Lhuillier: People thought I was popular right from the start but not really—people couldn't even really say my name in the beginning. I had not worked for a storied [fashion] house before, and people didn't know what to think of my collection but they were gravitating to the design and aesthetic and we built this brand step by step. We would do trunk shows and people would come in and be 'Monique, who?' Then, 'Monique L.' Then, 'Monique Lu.' and after 'Monique Lhuillier' I was like, 'something is happening, they can say my name right!' We [then] felt the momentum after about three years in business. It was definitely a steady ride but not an easy ride.
AFM: Who was the first celebrity to wear one of your dresses?
Lhuillier: The first celebrity to wear my dress was Angelina Jolie, and she wore it to the Emmy's and that opened our eyes to what celebrity dressing does to a brand. [It] immediately puts you in magazines and the exposure was wonderful. Shortly after that, I designed a wedding dress for Britney Spears and that was another big moment for us and our brand and to be kind of out there and worldwide cause she was at the height of her career and that was like a turning point for us. So many [celebrities] followed suit right after that and that's something that's really wonderful to see. The relationships I've had with all these influencers have been strong throughout the year and maintained—it's wonderful!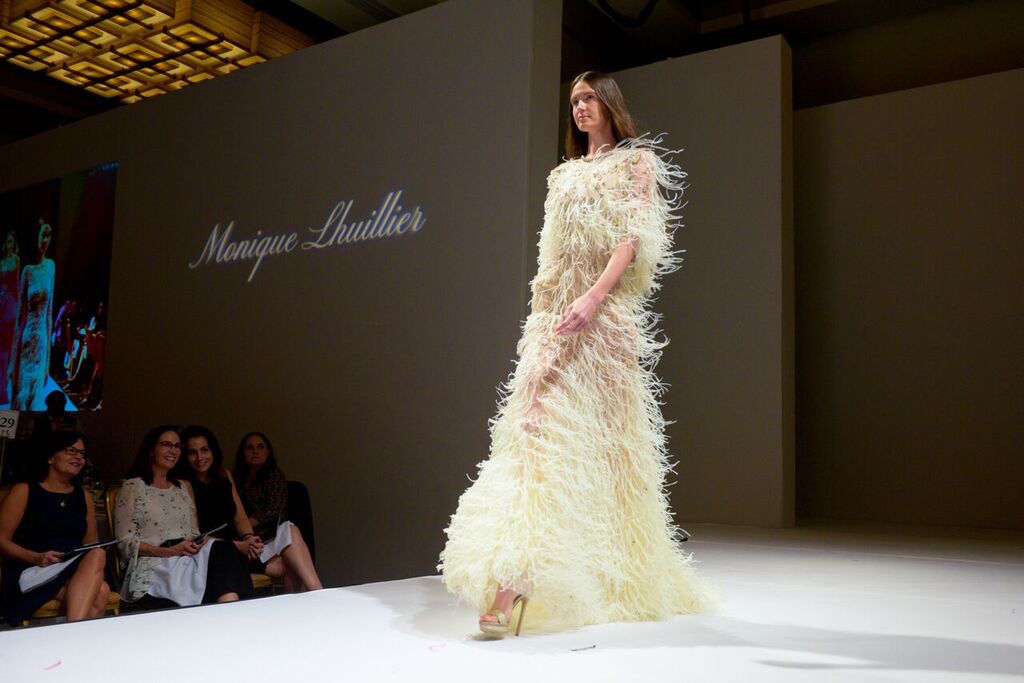 AFM: Where do you draw your inspiration from for designing your collections?
Lhuillier: I draw my inspiration just by living. Travel is something I love to do, I used to do a lot more but now that I have two young children who have a school schedule, we don't travel as much but as soon as they get a break we travel because I feel like just being in a different country [with] different cultures [and] different experiences sparks an idea—and I'm very visual. It could be a piece of art or a piece of fabric, a piece of antique, a beautiful setting that sparks an idea for a collection and I kind of run with it from there. Even watching how people dress on the street, all of that is inspiring so I would say just living every day.
AFM: What do you want women to feel when they wear one of your dresses?
Lhuillier: I always say it's a woman designing for a woman, and I understand that the people that wear my collection want to feel special at that moment. They want the confidence and to feel like they're shining and that's what I do. It all started with weddings and shining on that one day but now its branched out to all the other special things they're celebrating throughout their life. When I do home and tabletop, it's about celebrating every day since life should be celebrated every day not only for Easter or a holiday it should be about making every day special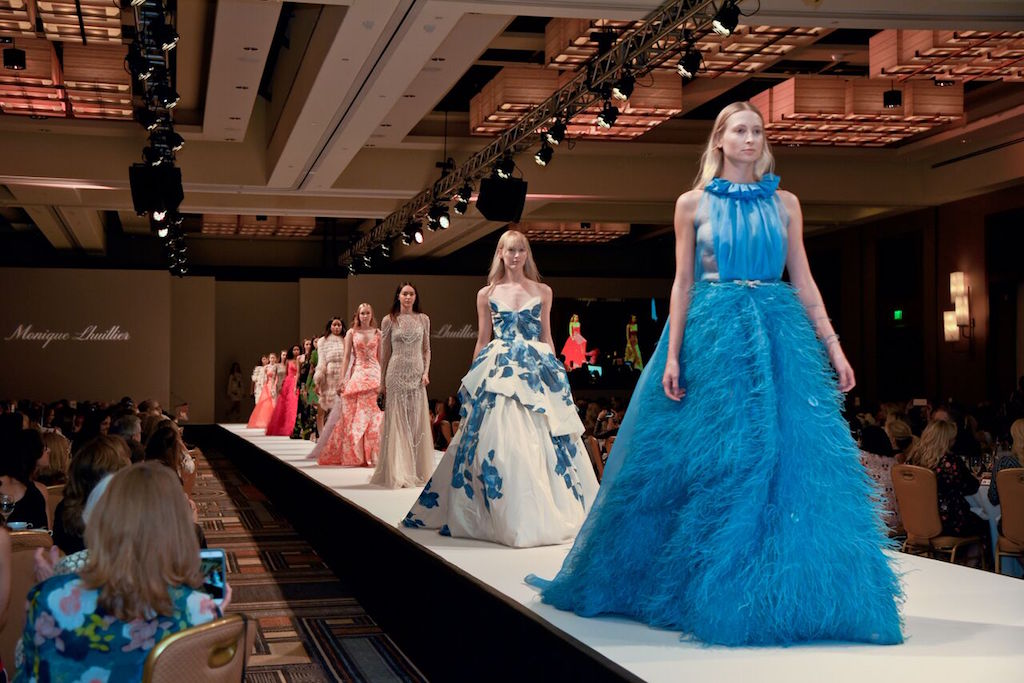 Photo courtesy of Kay & Co
AFM: What was the main focus for your Spring collection?
Lhuillier: I showed in Paris for the very first time after showing in New York for 15 years since I decided it was time to do something new. I showed during Couture, and it went over very well.
It was incredible! I always do New York but I felt like this year it felt right to change it up and one of my focuses is to build my business internationally, and I thought the perfect platform was to show during couture. [Another big reason was due to my heritage since] I am half French and I go to Paris three times a year, and I thought 'I can't believe I haven't shown here.' It was a personal journey for me to do that, and it was great.
AFM: What exactly inspired your Spring 2018 collection?
Lhuillier: I drew the inspiration from Paris [due to] the whole build up to show in Paris during Couture season. I wanted it to be like a love letter to Paris. I wanted to really show how I see my clothes on my girl when she is in Paris and living there and I drew inspiration from the city itself.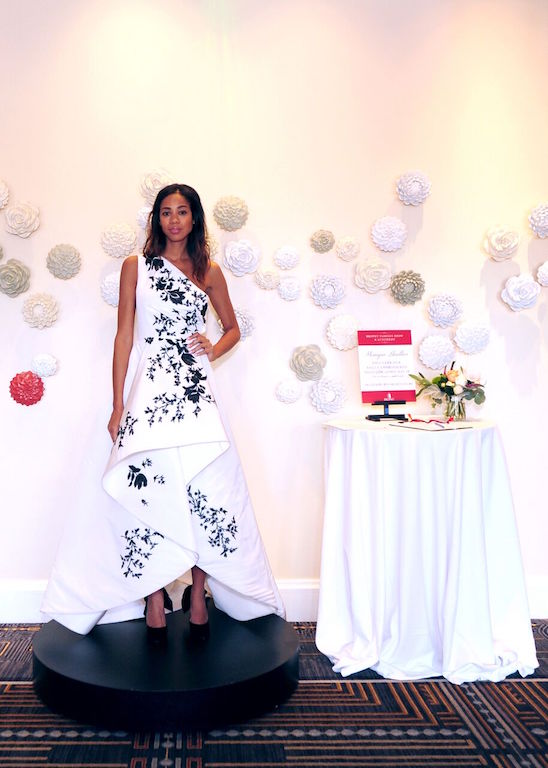 Photo courtesy of Kay & Co
AFM: Why did you pick this specific gown to donate?
AFM: It was a collaborative choice between Neiman Marcus and us because we know what our client gravitates to so we thought this gown would be a good indication of what people like. It's not too out there; it's simple, yet pretty.
AFM: Why did you decide to participate in this event— 34th Annual Brophy College Preparatory Fashion Show?
Lhuillier: I got involved in it since I've had a long-lasting relationship with Neiman Marcus, and they invited me many months ago to come and participate. I've been to Scottsdale, this is my third trip and every time I've been here, it's been very memorable and people are so warm and welcoming. I always leave with such a great experience; I'm happy to be invited back. This charity is actually very meaningful to me since it's empowering young men to not only educate themselves but to give back to their community, and I think that is so important. I'm raising a son who's 11-years-old and all those [are] qualities I try to instill in him on a daily basis. The other piece that's close to my heart is that my husband actually went to this school—for only six months— but he did attend Brophy when he was here in his senior high school years. So, all of that made sense and, with Neiman Marcus, it was the perfect fit.