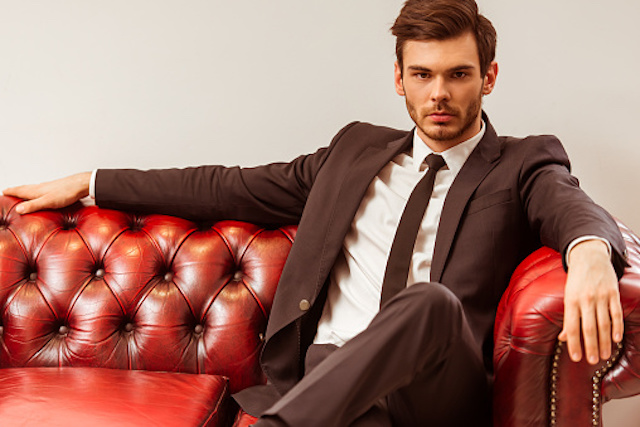 Two words that describe the fall menswear trends are: patterns and texture. That's right, the 70's are back—but of course with a different interpretation. Patterned sports coats and different textured suit jackets are the perfect way to stay on trend for this fall. For more about the menswear trends for the fall, we got to talk with Tom Simon, who is the sportswear director at one of Arizona's best menswear store, The Clotherie. "The store gets darker when the season changes" is what Simon said when asked about the summer to fall transition at the store. Of course, the fall colors of burgundy, navy and dark greens are common themes seen with the fall season, but the texture in which they are delivered is what makes looks different from previous years. Simon was able to give examples for every type of guy; beginning with the one who isn't afraid to play with more color and patterns to the one who wants to stay on trend but keeping to their classic look.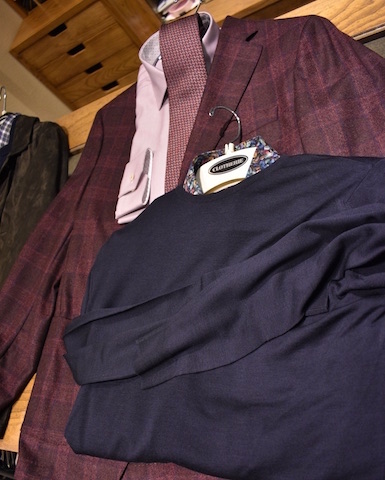 This is the perfect way to not only add some color but to subtly play with patterns. "Make sure you have subtle plaid with a strong floral," says Simon. Too much of both can instantly be too overpowering and make for a clash of both patterns. As seen above, Simon made sure to add a strong floral collared shirt under a solid navy blue sweater to peek out perfectly when wearing the burgundy plaid sports coat. This outfit also displays the perfect transition from summer to fall with incorporating the bright summer colors with darker fall colors.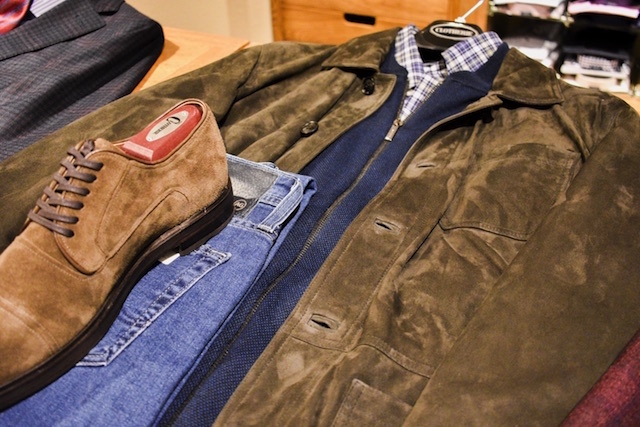 Suede is a repeat offender for fall, and that is definitely OK! In this instance, it is seen in a dark green jacket and paired with a navy blue sweater, dark blue jeans and finishing with a touch of suede in the brown loafers. This is definitely a relaxed look.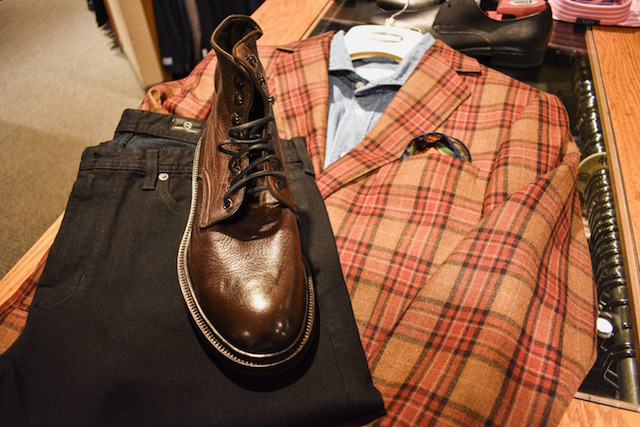 A little more play with the 70's trend is seen here with this gorgeous orange and brown plaid sports coat. To keep this coat as the statement piece for this outfit, Simon paired it with a denim shirt, black jeans and brown leather boots. Simon says, "The denim shirt with 70's plaid instead of a turtleneck makes it so it's not a literal transition of 70's." It makes it more on-trend for the current season and takes inspiration from that era. Due to the overpowering colors coming from the jacket, it's important to match it with dark solid colors, putting more emphasis on the jacket.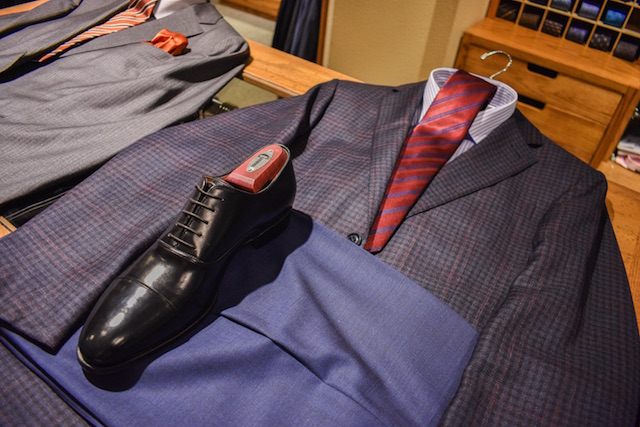 This is a perfect example of keeping it classic while still playing with various trends for fall. In this case, a subtle red and blue plaid coat is paired with navy blue pants and a red tie to bring out the slight red stripes seen throughout the jacket.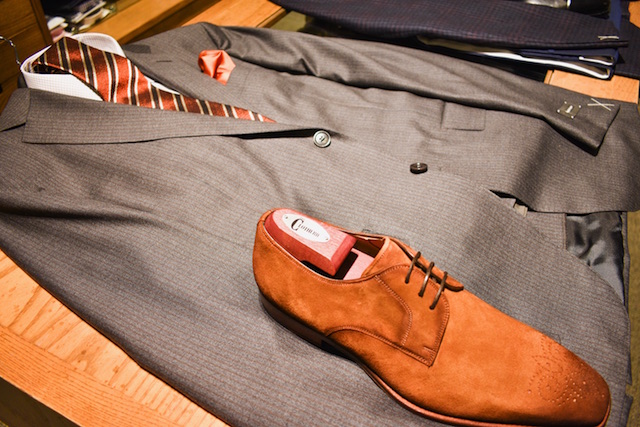 This is another look for the classic man who wants to add more color to their wardrobe. The slight addition of orange to a classic gray suit is the ideal way to play with fall colors in your wardrobe. Adding hints of orange with a tie and/or pocket square is a way to contribute to fall trends without too much change or commitment. Instead of the black oxford, go for a light brown ombre leather shoe to soften up the look with the season change.