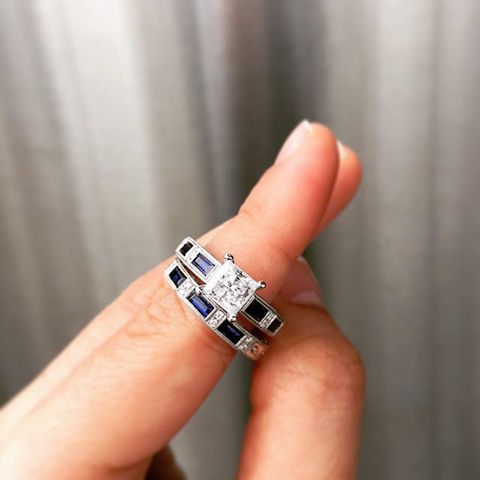 Colored gem engagement rings are all the rage. It was first seen by Jackie Kennedy when President John F. Kennedy proposed to her in the 50's with a 2.84-carat emerald ring. The next time the world was amazed by a colored gem engagement ring was for three of the 13 engagement rings David Beckham gave his wife, Victoria Beckham, in their 17 years of marriage. Recently, it was seen when Prince William gave his bride, Kate Middleton an engagement ring that was his mom's, Princess Diana. The classic, yet stunning, sapphire ring is known to be the most famous heirloom in the world today.
Colored gem engagement rings are definitely a popular choice for today, but birthstone engagement rings are an even bigger phenomenon. An engagement ring, with a colored gem that correlates to the month a bride is born, is seen to be one of the most meaningful rings out there; a ring that is customized in its own beautiful way. To get more information on the phenomenon with birthstone engagement rings, AFM got the chance to interview local jewelry expert, Sharon Lehew, who has been in the business for 39 years. Lehew is currently a General Sales Manager at the Robbins Brothers engagement ring store in Scottsdale.
AFM: When do you think the trend of birthstone engagement rings became so popular?
SL: Royalty has been including colored gemstones for years. Princess Diana's beautiful sapphire and diamond ring became an instant staple - from then on, color has been incorporated into engagement rings and has made a huge impression as a center stone.
AFM: Why do you think it became such a popular trend for brides?
SL: I believe the meaning behind each of the colored stones has made this such a popular trend for brides.
AFM: Is there something a future bride should know about the trend as far as upkeep, etc. for the ring that may be different from upkeep on a traditional diamond ring?
SL: The colored stones that we use at Robbins Brothers are extremely durable; not all colored stones have the hardness to be worn as an everyday ring and can often scratch or chip. Before you purchase a colored gemstone, make sure it has the appropriate hardness to be worn as an everyday ring. Colored stones can be cleaned and cared for just like a traditional diamond.
AFM: Which month do you think offers the best stone/ring in terms of birthstone engagement rings?
SL: September because sapphires come in a variety of colors. Sapphires are amongst one of the most popular colored stones, as well as Spinel and Morganite for an array of color and hardness.
AFM: Which months are ideal for the perfect birthstone engagement ring?
SL: April (diamond), July (ruby), September (sapphire) and December (Blue Spinel in place of a Blue Zircon).
AFM: What's the next engagement ring trend you think will be popular in the near future?
SL: Designers are forever creating new looks for brides. I always recommend going with the style that will move you for a lifetime and the center stone that tells your love story.
For more information and to find the perfect engagement ring, make sure to visit robbinsbrothers.com.