Page 1 of 7
Follow the sun in the season's prettiest resort finds - classic day dresses, sultry swimwear and accessories that say "I've arrived!"
Pack your bags with pieces that read "old world glamour" in a mix of graphic neutrals and techno brights.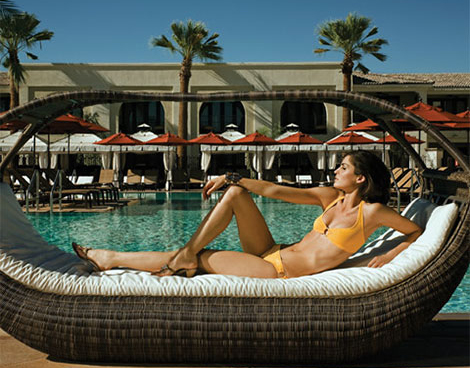 Diane von Furstenberg yellow bikini, $190. Giuseppe Zanotti crystal and gold sandals, $695. Both Saks Fifth Avenue. Noir Silver cuff with tiger's eye, $238. Amy Inc., The Mix Shops, 480.425.1424. Photographed by Iggi M. Hair/Makeup/Styling: Diane Aiello, Fashion and Beauty Director. Model: The Agency Arizona. Location: InterContinental Montelucia Resort & Spa.