Page 2 of 2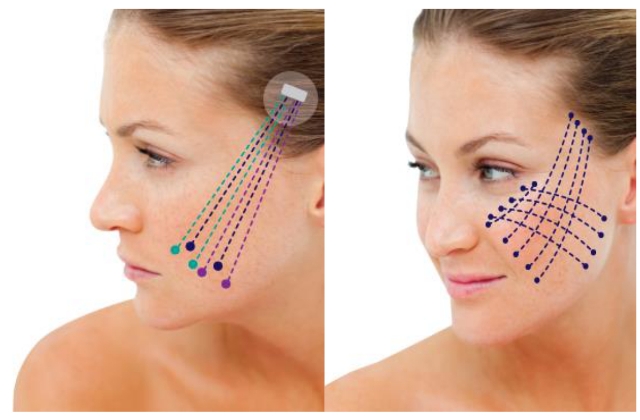 The Thread Lift is an in-office treatment that lifts and tightens sagging skin, using threads. The Thread Lift can improve the appearance of a sagging neck, jowls, cheeks and droopy eyebrows, and it is even a great alternative to cosmetic surgery or even Botox.
Surprisingly, not many people have heard of Thread Lifts and not many practices offer it. Perhaps it is because the description of the procedure sounds worse than it actually is, and in the past - before the latest technology - there were complications. With the new Thread Lift Technology and the right practitioner, it is a simple in-office procedure with little downtime or even bruising.
The practitioner must be a licensed nurse or doctor and needs an artist's eye, a firm yet gentle touch, and knowledge and expertise. One such nurse is Debbie Landry at Allure Med Spa in Mesa.
Landry is one of the top practitioners of PDO threading in the Valley and has been practicing threading for over 10 years.
The Thread Lift offers three benefits similar to fillers without the added volume, giving a more natural look and results. These are instant lifting, collagen stimulation and long-term tightening.
The procedure itself is very safe. After local numbing, the threads are inserted via sharp or blunt canulas into different areas of the skin. They are then lifted to give the desired contour. The lifted areas will stay for three to six months and collagen will be stimulated at the same time.
About six months after the procedure, the PDO threads will disappear. The Thread Lift is a minimally invasive procedurcausing a natural lift and tightening of the skin over time.
Depending on the areas treated, the procedure takes 30 to 45 minutes and although there is some discomfort during the procedure, with numbing cream and the right technique it is now relatively painless.
With the right technician, this treatment is safe, especially when compared to other alternatives such as surgery or even fillers. The side effects are milder than surgery or fillers. There may be some bruising, depending on the type of threads used and the technique.
Depending on the types of threads used and areas treated, bruising may or may not occur. Patients can expect some mild swelling and soreness and a feeling of tightness for three to five days.