Page 7 of 8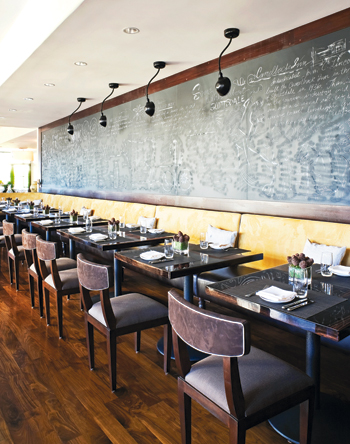 Most Amazing Restaurant Interior
BLT Steak at JW Marriott Camelback Inn Resort & Spa
While BLT Steak's Valley views impress, so does the gorgeousness that the resort steakhouse has going on between its walls. From cozy wood floors, a cool blackboard wall and a sleek bar area, BLT Steak's got looks on its side. www.bltscottsdale.com.
Best Grocery Store
AJ's Fine Foods
Talk about a one-stop shop. AJ's Fine Foods proves to be so popular due to its selection of services, including a bakery, a butcher's corner, a wine cellar, a fromagerie and its delicious dine-in or take-out bistro offerings. www.ajsfinefoods.com.
Best Date Spot and Best Private Dining Room Second-Year Winner
Sassi
Whether it's the Southern Italy ambience, award-winning wine lists, cozy alfresco seating or comforting, authentic pasta dishes that warms the hearts of Valley diners, Scottsdale's Sassi takes home Best Date Spot for the second time. Plus, the restaurant's stunning private dining spaces elevate a small party into a gold-star gathering. 480.502.9095, www.sassi.biz.
Best Place to Watch the Big Game
Majerle's Sports Grill
Makes perfect sense: The Valley's favorite spot to catch the big game is owned by one of Arizona's most well-loved athletes, Dan Majerle. At the three local Majerle's Sports Grill locations, diners can enjoy quality eats, awesome patios and top-of-the-line audio/visual equipment. www.majerles.com.
Best Restaurant Dessert
Crescent Moon at The Four Seasons Scottsdale at Troon North
From chocolate Diablo cake with chipotle and hibiscus sorbet to horchata crème brûlée paired with exotic fruit salsa and a cinnamon tortilla, the Southwest-influenced desserts at Crescent Moon know how to satisfy a sweet tooth. 480.515.5700, www.fourseasons.com/scottsdale.