Page 2 of 8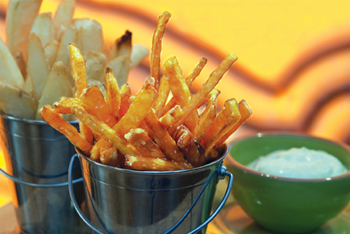 Best Fries
Onyx Bar & Lounge at The Four Seasons Resort Scottsdale at Troon North
Fries might just be the world's most hard-to-resist snack. Why even try denying yourself a helping of Onyx Bar & Lounge's heavenly papas fritas, sided with jalapeño aioli? 480.515.5700, www.fourseasons.com/scottsdale.
Best Business Lunch Spot
bistro 24 at The Ritz-Carlton, Phoenix
Execs looking for a sleek spot to power lunch turn to Phoenix's bistro 24, where they can savor French bistro fare with a twist. The bill of fare includes delicious rustic pizzas, artisan cheese plates and more. 602.468.0700, www.ritzcarlton.com/phoenix.
Best Candy Store
Sweeties Candy of Arizona
Family-owned and –operated Sweeties Candy of Arizona is serious when it comes to gummies, gobstoppers and more. The store carries 75,000 pounds of old favorites and new sweet sensations in 5,000 square feet of space. 480.899.4245, www.sweetiescandyaz.com.
Best Chips & Salsa
Jalapeño Inferno
For the past 10 years, Jalapeño Inferno has been doling out authentic Mexican eats in North Scottsdale. Even before the meal starts, diners' taste buds are tantalized by a mix of flour and corn chips and variety of salsas. 480.585.6442, www.jalapenoinferno.com.