Page 1 of 4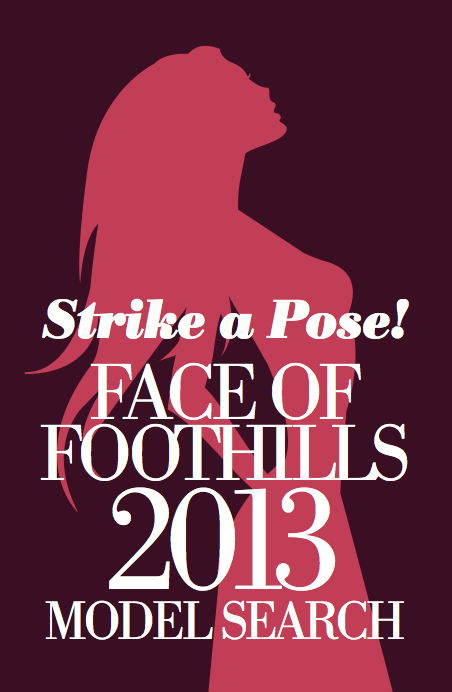 Arizona Foothills Magazine is now accepting entries for the Face of Foothills model search 2013. The winning model, who encompasses the style, substance and sophistication of the luxury publication, will serve as the FOF January 1, 2013 through Dec 31, 2013, and receive a pile of amazing prizes!

Face of Foothills 2012-Caitlin Wilenchik

Face of Foothills 2011- Tori Zukowski

Face of Foothills 2010- Stephanie Mannon

Face of Foothills 2009
How to Enter 
1) Attend a Casting Call at Arizona Shopping Centers. Casting Calls will be from 11 am to 1 pm.
       4.14 – Biltmore Fashion Park
       4.21 – Kierland Commons
       4.28 – Chandler Fashion Center
       5.05 – Scottsdale Fashion Square and La Encantada
BONUS: All Contestants chosen who entered at a Casting Call will start the contest with 1,000 votes!
OR
2) Submit an entry via e-mail through June 10, 2012, at faceoffoothills@azfoothills.com. All ages, sizes and sexes may enter, though AFM reserves the right to divide the contest how they see fit to accommodate young entrants. This year, models under 18 must have a parent or guardian present. Models under 18 will be entered into AZFoothills.com's separate Future Face of Foothills or Beautiful Baby contests. All entrants must submit the following:
A head shot and full-length shot
Contact info including name, phone number and e-mail address
A few details, including age as of July 1, 2012, hometown, how you heard about the contest and if you are currently signed with an agency
How the Contest Works 
Arizona Foothills editors and the Creative Director will choose the models they deem the best fits for Arizona Foothills Magazine, who the public can then vote on at AZFoothills.com from July 2012 through October 2012. A panel of editors, sponsors and judges will then meet the top 10 in person and choose their winner. Full contest details can be seen in the official rules and regulations on the following pages.
All contest communications and announcements are done through e-mail. Any questions, comments and concerns regarding this contest must be submitted in writing to faceoffoothills@azfoothills.com. No calls will be taken and no drop-ins will be seen.
Get to know our sponsor and judge Dr. Shaw! Click here.
The Fabulous Prizes 
The 2013 Face of Foothills will be crowned the winner in Fall of 2012. He or she will be seen on the cover of a 2013 issue of AFM, star in a fashion shoot and see their face featured on the AZFoothills.com and AFM's weekly eNEWS headers for one full year, the thumbnail of our Twitter for @AZFoothillsMag and @Tucsons_Best for all of 2013! They'll also receive $5,000 in luxury jewelry, $1,000 cash, a weekend stay in the Valley with spa treatments and other awesome prizes. 
Look below to read more about the winners from the past:
More information about the 2010 winner, event, and finalists:
Click here to see the Face of Foothills 2010 fashion shoot
Click here, here, here and here to see photos of the Face of Foothills party and finalists
Click here for the Top Ten shoot
Click here for an exclusive Q&A with 2010 winner Stephanie's agent Aimee Sugar on what she's accomplished since Face of Foothills
More information about the 2011 winner, event, and finalists:
Click here, here, here, here and here for photo galleries of last year's event!
Click here to meet the 2011 Top Ten Face of Foothills Contestants
Click here to meet the 2011 Top Twelve Future Face of Foothills Contestants
More information about the 2012 winner, event, and finalists:
Click here for photo galleries of this year's event!
Click here to meet the 2012 Face of Foothills Winner
Click here to meet the 2012 Future Face of Foothills Winner
Click the next button below to read the 2013 official Rules and Regulations