Page 1 of 2
Arizona Theatre Company is proud to present its production of Broadway's quirky hit musical [title of show], February 18 through March 7 at the Herberger Theater Center in Phoenix.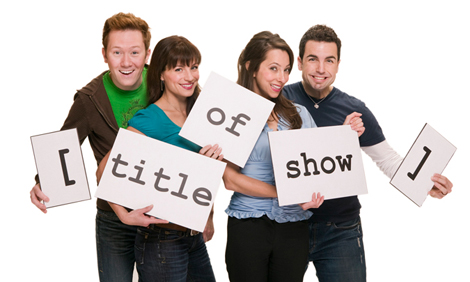 In 2004, two out-of-work actors in New York decided to write a musical. The problem was, they didn't know what to write about. So they simply wrote about writing the musical and the result was the hilarious and tuneful Broadway hit [title of show], a startlingly hilarious and tuneful musical about musicals. The witty story follows the two writers, and their best friends, as they create a Cinderella tale set to music about the journey from the unemployment line to the Great White Way. Arizona Theatre Company is proud to be the first regional company in the west to produce this offbeat musical that has been hailed as "hilarious" by the New York Times, "sly, sassy and inspired" by Entertainment Weekly, and "irresistible" by the NY Sun.
When I first saw [title of show] in its off-Broadway incarnation, I was exhilarated by its wit, honesty and joyful message about daring to dream big," said director David Ira Goldstein. "It's a true 'insider's insider's' view of what it takes to make something brand new and what fun it is express your voice passionately. Everyone creates something in this world that is uniquely theirs, and [title of show] celebrates with stylish glee the perspiration and the inspiration of creation. It's also about friendship of the deepest kind, friendship between people who put themselves on the line to create, to sing their songs and to share their vision. That this little show made it all the way to Broadway - and now beyond - is a wonderful case of life mirroring art."
On writing a musical they he would star in himself, Hunter Bell said, "a lot of artists whose work I admire is sort of self-generated, Eddie Izzard, Margaret Cho, Ricky Gervais, Lily Tomlin, Christopher Guest, Rosanne…these are all people who inspire me because they create great material for themselves…they didn't necessarily wait for someone else to do it for them…they just didit themselves."
On playing himself, Hunter Bell said, "The characters are certainly based on us, but they are not completely us. They are these kind of heightened theatrical versions of Hunter and Jeff. But more than any other show I've done, people do seem to feel a deeper connection to us after they've seen the show. It's funny, sometimes I'll meet people after the show, and when I introduce myself, I'll say, "I'm Hunter"… and they say "We know."
Click here to enter to win 2 tickets to [title of show].
For more information or to purchase tickets visit www.aztheatreco.org.
Click the next button below to read about the cast.