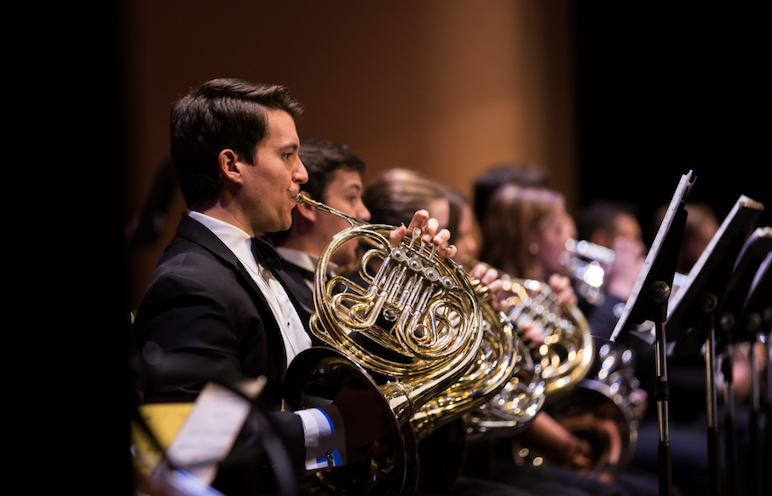 Madison Center for the Arts to Host ASU School of Music Performances
Herberger Institute for Design and the Arts to Perform 2021-22 Concert Series at Phoenix Venue
The Madison Center for the Arts is excited to partner with Arizona State University's School of Music, Dance and Theatre in the Herberger Institute for Design and the Arts to serve as a new venue for the school's musical concerts. Located in Central Phoenix, The Madison Center for Arts will host a number of the school's Wind Symphony, Wind Ensemble, Chamber Winds, Philharmonia, Symphony and Chamber Orchestra performances, as well as provide free concerts and master classes to the Madison School District.
ASU's music program traces its roots back over 100 years and is currently ranked among the top programs in the country. As one of the nation's most comprehensive music programs, it attracts scores of talented musicians from nearly every state and abroad who bring a thirst for the arts, high performing standards and a drive for excellence.
"We are thrilled to partner with The Madison Center for the Arts to present large ensemble and chamber music performances in our community," said Heather Landes, director of the ASU School of Music, Dance and Theatre. "ASU's charter includes a charge to assume fundamental responsibility for the cultural health of the communities we serve, and these concerts enhance the arts offerings available in the greater Phoenix metropolitan area."
The Madison is scheduled to host the ASU music performances from September 2021 through March 2022. General admission tickets for all ASU performances will be $12; students will receive free admission.
A complete schedule can be found below and at themadison.org:
"As Phoenix's newest performing arts venue, it is an honor to host these talented musicians from ASU – my alma mater," said Ari Levin, executive director of The Madison. "Even more exciting is the incredible opportunity the Madison School District music students are getting to learn from and perform with the university musicians. We look forward to showcasing the diverse talent ASU's Herberger Institute offers and providing another venue where the community can enjoy the arts."
The Madison Center for the Arts is a 160,000 square foot, state-of-the-art venue featuring a 904-seat auditorium, an extensive veranda and spacious lobby with a soaring 40-foot ceiling. The elegant versatility of this venue makes it an ideal choice for not only the performing arts, but corporate events, galas, weddings, and other major life celebrations.
The venue also recently announced its first Broadway season, featuring an impressive lineup of theatrical shows and Broadway productions, including acts never before seen in the Valley.
The Madison Center for the Arts is located at 5601 N 16th St, Phoenix, AZ 85016. For more information and tickets, visit themadison.org.