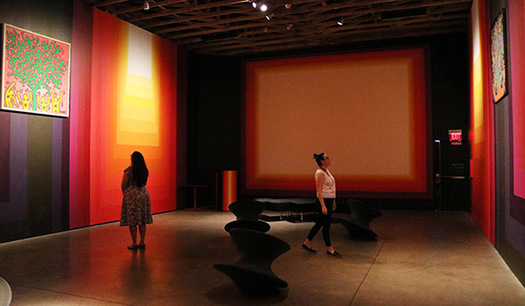 Perfect weather, amazing art, music, shopping and more just waiting for you in Scottsdale! When was the last time you explored meandered through Old Town Scottsdale checking out the wonderful diverse galleries, great local shops, unique bars and eclectic restaurants? Tonight head to Old Town Scottsdale for the weekly Thursday night Scottsdale ArtWalk happening from 7:00-9:00pm! Here is the latest roundup of must see exhibitions kicking off November…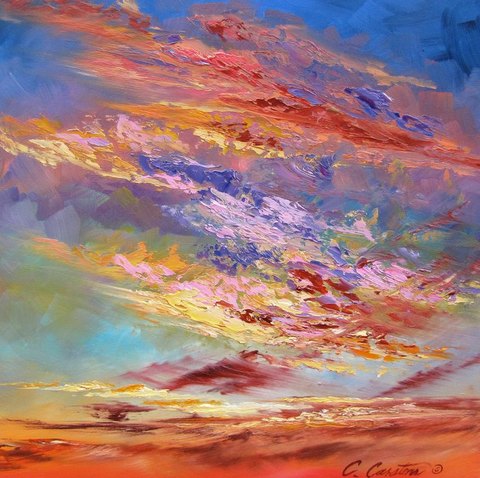 Carstens Fine Art Gallery is currently showcasing the latest skyscape and landscape paintings of owner and artist Cyndy Carstens who utilizes oil, graphite, acrylic and watercolor within her large body of work. "My artworks are interpretations of hope and joy, striving toward a peaceful and harmonious bliss," states Cyndy Carstens. Carstens has just released a special series of designer pillows "Comfort for Cancer" which feature images of her stunning paintings. They are 14 x 20 and priced at only $47.50 (supplies are limited) with all proceeds will benefit families struggling with living expenses as they fight cancer. Carstens Fine Art Gallery is located at 7077 Main Street #5, Scottsdale. For more information visit Cyndy Carstens online at http://www.cyndycarstens.com.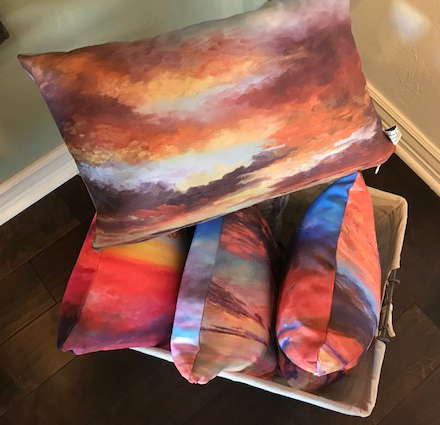 Gallery Andrea currently featuring a variety of artwork from a fabulous stable of artists including Joanna Zjawinska, Foy, Collin Fry, James Lumbers, Andreas Schwab, Nemesh, Eva Makk, Americo Makk and of course work from the very talented namesake artists Andrea de Kerpely-Zak and Andrea Zakrzewski. Meet the fabulous mother daughter duo when you visit the Andrea Gallery and experience their incredible artwork for yourself! The gallery participates in the Thursday Scottsdale ArtWalk hosting a special reception from 7pm to 9pm each week. The gallery is located at 7019 E. Main Street, Scottsdale and they are open six days a week from 11am to 5pm, closed only on Sunday. For more information about Gallery Andrea visit them online at http://artandrea.com/.

Tilt Gallery is featuring Cross Roads, mixed media works by Holly Roberts. Roberts is working with photography and painting that incorporate the by Holly Roberts. Experimenting with different ways of making my images Roberts photographic imagery is widely varied, fused with her own view of the world at their core with constant focus on animals, people, and people as animals. "One theme that runs through my work, it would be a subtle kind of loneliness or feeling of separateness, at times mixed with odd humor," states Roberts. Cross Roads will be on display until November 30, 2017. Tilt Gallery is located at 7077 East Main Street, Scottsdale. For more information visit http://www.tiltgallery.com.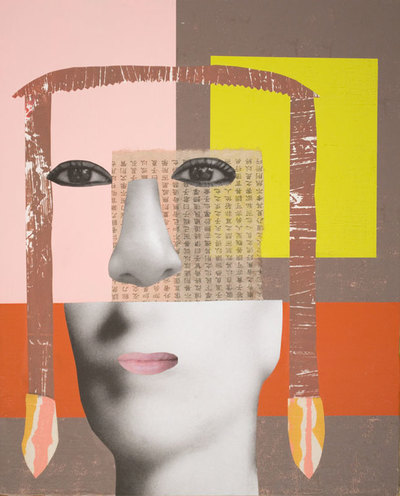 Royse Contemporary is featuring Phoenix based artist Rafael Navarro with his solo exhibition entitled Sound of Color, featuring an impressive body of work highlighting the artist's love of art and music, his range and mastery of skill and captivating works filled with symbolism, spirit and craftsmanship. The exhibition showcases Navarro's mixed-media artworks that utilize wood, sand, paint and canvas, highlighting a charismatic collection of work inspired by music and musical instruments themselves. Navarro brilliantly blends mediums, symbolism, and craftsmanship into dynamic and enthralling works of art, states curator Nicole Royse. This exhibition runs through this Saturday, November 4, 2017. Royse Contemporary is located at 7077 E. Main Street Suite 6, Scottsdale. For more information about this exhibition or this great new gallery visit them at roysecontemporary.com.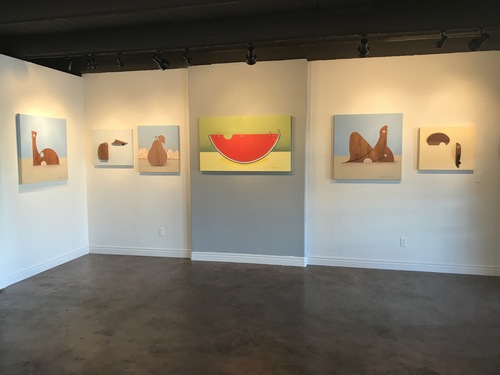 SMoCA is currently featuring Lounge that two works by artist Keith Haring will be on view in SMoCA Lounge for a limited time. The works, both Untitled, were created in 1985 and will only be display through December 26! Tonight there is "Lit Happy Hour: A Woman Looking at Men Looking at Women" from 6:00-7:30pm where SMoCA curator of contemporary art Jennifer McCabe, "will guide us through this radical collection of essays by Siri Hustvedt, which investigates the perceptual and gender biases that affect how we judge art, literature and the world around us". For more information visit them at smoca.org.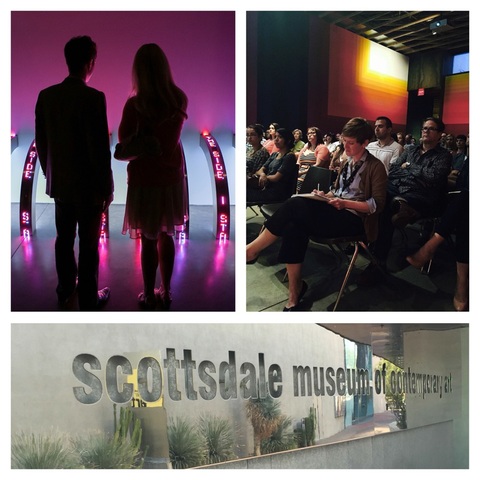 The Scottsdale Gallery Association in partnership with the City of Scottsdale hosts the ArtWalk every Thursday from 7 until 9:00 pm. The Scottsdale ArtWalk is located along Main Street and Marshall Way in Scottsdale and visitors can ride the Scottsdale Trolley for free until 9 pm!
 For more information about the Scottsdale ArtWalk or the Scottsdale Gallery Association visit: http://scottsdalegalleries.com. *Images courtesy and copyright of SGA and galleries.