Planning Your Dream Wedding with Seasonal Flair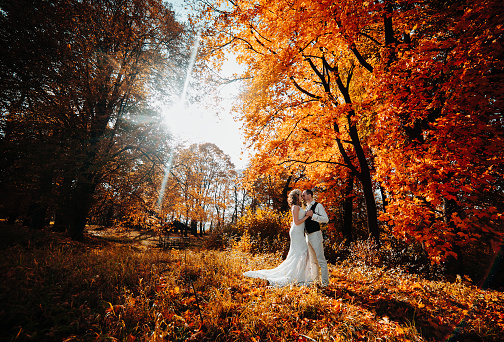 Planning a wedding is both exciting and stressful. The first step toward planning is choosing a date—and season—to fit your personal taste and style. Once you have a season selected, the next step is planning a theme that fits both your taste and the season.
The wedding guide that follows is an essential start to planning for each season.
Spring
Color: Spring is a flexible season for color. You can either choose to use bold, brilliant colors or go with the softer colors associated with the season. Some of the more popular colors are seafoam green, chiffon yell, and Tiffany blue. They are delicate and go well with both light and dark counterparts.
Decorations: Spring is ideal for either a vintage wedding with lace and crinkle fans or an outdoor celebration. Decorate the space with hand-written place cards. If you time it right, you can even have a lantern release with sky lanterns, because of the earlier sunset time than the summer offers. It's a great way to send off and celebrate. These floating lanterns can help make your night even more memorable. Lighting up the night sky with lanterns is a fantastic way to get your entire party together and extremely affordable.
Flowers: Daisies, tulips, and delphinium are the obvious show-stoppers when it comes to spring wedding flowers. You can get them in softer hues that match your theme or go pure white with some of the flowers to create more contrast.
Summer
Colors: Adventurous and brilliant colors work the best in the summer because nature fits so perfectly with them. The best colors for the summer season are lavender, yellow, and cornflower blue. Mix and match colors for the best results.
Decorations: One of the major attractions to the summertime for many couples is the flexibility. You can have it during the day or at night, and the theme options are so vast. For daytime weddings, have a picnic-themed event outside with nature as a backdrop. For evening weddings, celebrate nightlife in the city or your love of country with the great outdoors. Incorporate special lighting such as torches or wedding sparklers. Adding sparklers for weddings is a sure way to bring everyone together one last time to celebrate the newlyweds new love. Wedding sparklers can also produce some of the best pictures of your entire wedding night.
Flowers: Summer weddings are best with vibrantly colored flowers that embrace the season. For example, dahlias are elegant pink, red, and purple. Snapdragons are a unique and colorful idea.
Fall
Color: Fall is the perfect time to embrace vibrant, earthy colors that fit the season, such as orange, cranberry red, gold, or mauve. You can easily mix and match the colors for a truly unique wedding that appeals to the eye.
Decorations: Fall is a time often associated with comfort and color. Use these ideas by decorating with fall-colored leaves and pinecones to make unique centerpieces. Use seasonal flowers and warm lights. Schedule your wedding right before sunset, when the natural light of the season brings everything to life.
Flowers: One of the best flowers for a fall wedding is amaryllis because you can choose from a number of different colors. Also, violets add a nice touch to bouquets. Mix and match colors to accent the rest of your wedding, even if they aren't part of the theme.
Winter
Color: Winter colors are best in deep, rich hues. If you are somewhere that gets snow, colors that either accent the snow or stand out against it are best, such as a dark red, evergreen, and silver. Silver makes a great accent color to any deep color.
Decorations: Winter weddings are typically indoors. Embrace the location with the right decorations. Light up the wedding and reception with candles. Use wood accents for a more rustic feel. Welcome a holiday, if you celebrate it and are getting married close to it. For instance, decorate a Christmas tree and have guests take an ornament home, or they can bring one to add to the tree and help you build a collection for your new life.
Flowers: Winter is the perfect time for more classic, elegant flowers like roses, peonies, and calla lilies. Add holly for an extra touch of color. Since winter photos are so popular, make sure you don't use colors that contrast with each other. They will stand out against the white snow.
If you need more inspiration for setting up the perfect wedding, take a look at this gallery. It's sure to inspire!