The University of Arizona will serve as the backdrop for a fashion event that will benefit a more-than-worthwhile cause—brain tumor research.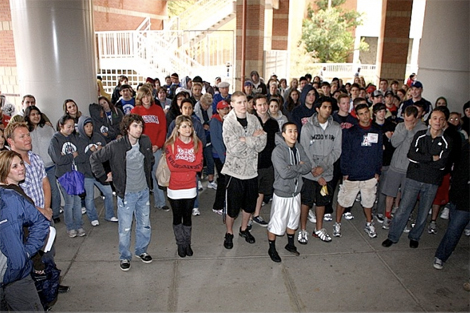 Students Supporting Brain Tumor Research (SSBTR) was originally founded in Phoenix in 2002 after three Paradise Valley School District students were diagnosed with brain tumors. Shannon Timms, a University of Arizona student, helped plan the sixth annual Phoenix walk while in high school. In 2009 Shannon and her roommate, Lindsey Erlick, established an SSBTR club at the University of Arizona.
"Many people don't know how prevalent brain tumors are," Timms says. In fact, brain tumors are the second leading cause of cancer deaths in young adults ages 20 to 39.
On March 5th, SSBTR will be teaming up with the UA Steele Children's Research Center, a partner of Diamond Children's Medical Center, for the Fashion. Music. Pool. For A Cure Fashion Show. The festivities are set to take place from 1 to 3pm at the University of Arizona's newly remodeled recreation center pool.
"I wanted to bring SSBTR to UA to help raise awareness and inspire students to make a difference," Timms says.
The past two years SSBTR has organized walkathons in Tucson (pictured above), which collectively have raised over $23,000 for pediatric brain tumor research at the Steele Center, Arizona's only academic pediatric cancer research facility, and home to all pediatric hematologist/oncologists in southern Arizona. "Tucson is fortunate to have pediatric cancer specialists right here, so children don't have to go leave home to get the very best cancer treatments," says Dr. Fayez K. Ghishan, Director of the Steele Children's Research Center. "We're thrilled that UA students are showing their support."
This year SSBTR wanted to do something different and organize a fashion show. The event will feature spring fashion from Grand Central Clothing, Swindlers Boutique, and Worth NY. There will also be free food, live music, raffle prizes, and a performance by the UA dance team and synchronized swimming team. "The event is the weekend right before spring break, making it a great way to kick-off the spring break season while giving back to a great cause," Timms says.
Interested participants can pre-register on the SSBTR website for $10 General Admission or $15 VIP until February 26th. People can also register the day of the event for $5 more.
To Learn More
Students Supporting Brain Tumor Research, http://www.ssbtr.org.