Selecting the proper clubs to bring to the course is a cinch, however, selecting the perfect golf ensemble is another story.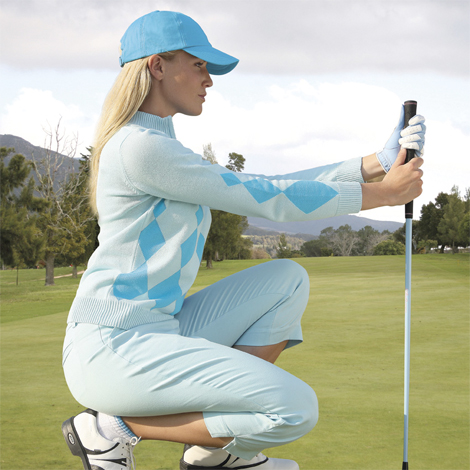 Arizona is a hot spot for golf, figuratively and literally. However, many visitors to the region under estimate exactly how chilly the Southwest can be in the winter and spring time frame—especially for early a.m. tee times. I can recall a 7:30 a.m. tee time a few Februarys ago where temps were in the mid-40s. Saving golfers from potentially frigid temps and demystifying the dress code of desert golf, Todd Howard, Director of Golf at JW Marriott Starr Pass Resort & Spa in Tucson, has some advice for visiting golfers regarding staying comfortable out on the course.
With a 27-hole Arnold Palmer Signature Golf Facility overlooking natural mountain ranges, a double-loaded driving range, a 20,000 square foot clubhouse and a top-quality golf shop, JW Marriott Starr Pass Resort & Spa is no stranger to accommodating golfers of all levels. Most golfers know the usual dress requirements of collared shirts, golf shoes and no denim. What some visitors may not realize is the range of temperature Tucson experiences during the winter months.
"The best advice I can give visiting golfers about dressing comfortably for the course is to wear layers," says Howard. "This time of year, Tucson tends to be cool in the morning and evening, but warm in the afternoon. Not always aware of this, guest golfers can sometimes overdress in the morning when it's cool, or not dress warmly enough if they have a later tee time that may run into the cool evening hours." A lightweight sweater or windbreaker can chase the morning and evening chill, but can be removed later in the afternoon when the weather is warmest.
"A wide-brimmed hat, sunglasses and sunscreen are always advisable," says Howard, though he notes that it's not really hot enough for the trendy submergible hats that hold water unless the temperature is supposed to reach above 95 degrees Fahrenheit.
Staff members at the Starr Pass Golf Shop suggest slacks, a collared shirt, a sweater vest and golf shoes in the winter. During the summer, they suggest khaki shorts, a collared tee shirt and golf shoes. The Starr Pass Golf Shop offers a large selection of clothing at a range of prices, in addition to range finders and divot tools.
To Learn More
JW Marriott Starr Pass Resort & Spa, www.jwmarriottstarrpass.com.