By David A. Bowers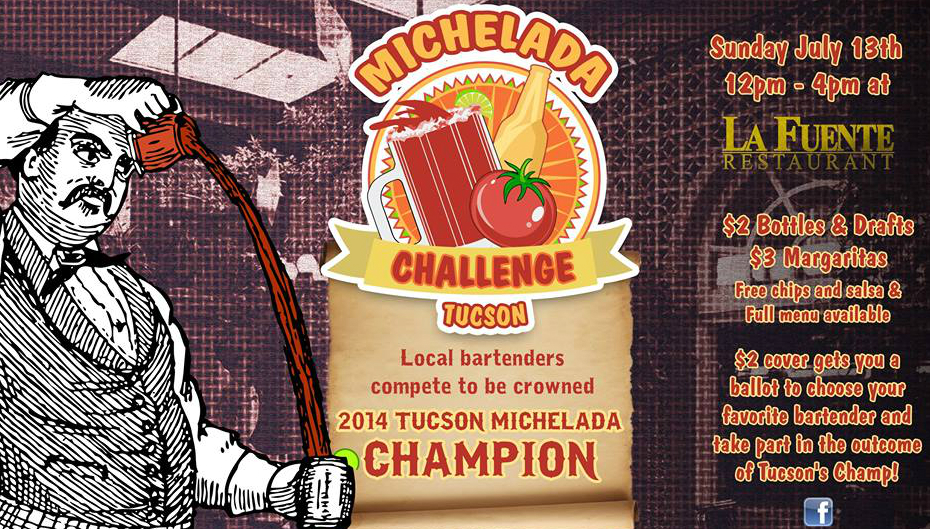 The sweltering desert heat can sometimes be a little too much for the typical Arizonan, luckily we live close to the Mexican border and have adopted one of their classic cocktails to cool down—the Michelada.
For those not in the know, a Michelada is, in the most basic sense, a Bloody Mary that uses beer instead of vodka…and from there, the similarities end. Much like its bloody cousin, the ingredients in a Michelada vary greatly and thus, the competition was born. Rob Betancourt, the brain behind the Arizona Bacon Fest has a knack for these type of events and the Inaugural Tucson Michelada Challenge promises to bring the heat…and the flavor to thirsty Tucsonans on Sunday.
La Fuente Restaurant at 1749 N. Oracle Road will be host of the challenge on Sunday the 13th of July from 12 to 4:00 p.m. The program will be hosted by Hot 98.3′s D-Wayne Chavez and KVOA Channel Four's Monica Garcia and will be judged by three local chefs—not bartenders.
The dirty dozen of Tucson's finest concoctologists will go head to head representing every type of watering hole from the darkest dives to the brightest country bars throwing their tin into the ring. Sports bars, neighborhood joints, military outposts and authentic Mexican cantinas will vie for the title of  Best Michelada in Tucson.
What beer will they use, what tomato juice will they use, will they use Clamato? Spices, garnishes, and flavored rims—Oh My!
For those wondering about the all-important World Cup soccer final that will be begin at noon on Sunday, fret not, sports fans. La Fuente will be broadcasting the match between Germany and Argentina in all of its glory.
The winner of the contest will not only earn the title and bragging rights but will also be featured in the VIP tent in this fall's Great Tucson Beer Festival sponsored by Sun Sounds at Kino Memorial Stadium.
For a two dollar cover charge; yes, only two dollars, you will receive a ballot to vote for your favorite bartender and all the chips and salsa that your heart desires. If the samples of Michelada whet your appetite for something a little more substantial, La Fuente will will their full menu available along with various drink specials including:
$2 bottles and      drafts

$3 margaritas

Tequila Shots

$3 Cuervo 1800       Silver

$4 Patron

$5 Don Julio
To recap—World Cup Soccer, world class Micheladas, chips & salsa, unheard of drink specials and Latin music from DJ Kasky all for only TWO DOLLARS.
Run, don't walk to La Fuente this Sunday. I'll be there with lovely wife so stop by and say hola!
Current list of competitors:
Kristina Sanders      - Wooden Nickel Tavern

Kris Carr -      Native New Yorker

Efrain Hernandez      - Junxion Bar

Raychell Summers      - Rusty's

Ivan Ochoa - BK      Carne Asada

Melanie DeCarlo      - The Maverick

Monica Ortiz -      Diablo's

Aurora Sadina -      The Buffet

Stephanie Engs -      Cocktail Test Kitchen

more to come