Page 1 of 2
Take one step into the Westward Look Wyndham Grand Resort & Spa and feel your workweek worries and stresses fade away. From the luxuriously decorated lobby, perfect for lounging, to the plush bedding and open spaces of the individual rooms, the resort knows comfort.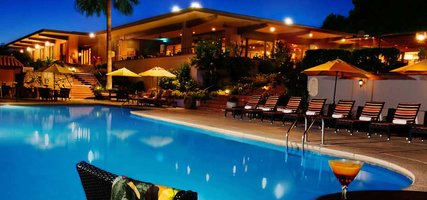 Start your journey by checking in with the friendly and welcoming staff. Retreat to your room where a walk-in shower, oversize lush bed, comfortable couch and living area, and outdoor patio await you. Stay in the room and watch a movie on HBO, or wonder the property and take in the multiple gardens, sitting areas, pools, and hiking trails.
The resort then has two delicious dinner options. GOLD, a contemporary and elegant restaurant, is available for a fancier meal with a view of the city lights, stylish décor, and creative eats. Lookout Bar & Grille is a more casual dining choice featuring menu items like salads, burgers, and lighter meals. Specialty cocktails, beers, and wines are also available.
Lookout Bar & Grille features one of Tucson's most popular dance bands every Friday and Saturday night. Grab dinner on one of the patio tables and enjoy the view of Tucson's city lights, then move inside for more drinks and live music entertainment.